This is one of the BEST banana breads you will ever try! It is moist, soft, light, fluffy and has a rich banana and chocolate flavor. Best of all, this recipe is 100% gluten and grain free! For those of you that are lactose intolerant, this recipe is also dairy free.
Is it the perfect banana bread?
Maybe, if you like chocolate with your banana. To me, chocolate + banana = delicious and this recipe is extremely tasty.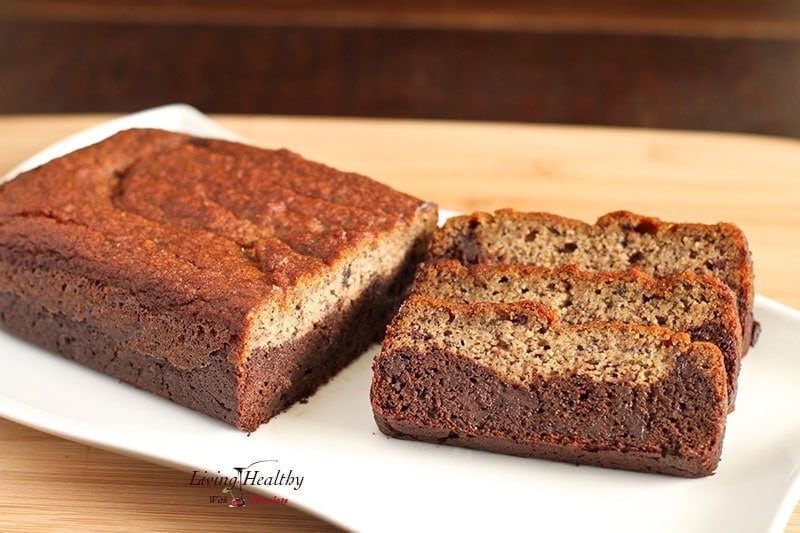 Here in Hawaii we have a type of banana called Apple Bananas. They are my favorite and they taste sweeter and are smaller than the Cavendish variety. If you can find them at your local store, definitely give them a try! As with any other recipe, the ingredients you use will impact the flavor somewhat, so it is always best to select the highest quality and tastiest ingredients. Below you will find a few of the products I used to make this banana bread recipe.
SHARE THIS RECIPE!
Black Bottom Banana Bread (paleo, gluten free, grain free, dairy free)
Instructions
in a medium bowl, mix together the almond flour, baking soda and salt

add the bananas, coconut oil, vanilla, egg and honey to a food processor and pulse to combine ingredients

mix together the wet and dry ingredients using a spoon to form a batter. Be careful not to over mix or the batter will become oily and dense.

divide the batter in half. Add the cacao powder and chocolate chips to half and pour into the bottom of an 8½" x 4½"-inch medium loaf pan greased or lined with parchment paper

spoon remaining batter on top and bake at 350°F until a toothpick inserted into the center comes out clean, approximately 50 minutes.
Recipe Notes
* To measure 1½ cups of bananas, chop the banana into small pieces and fill the measuring cup.
Apple bananas enhances the flavor of this bread, so make sure to use it if you can find it for sale at your local stores.