Halloween is next week! This year is going by so fast...
You may have noticed that I have not been posting many recipes lately. I have a good excuse, and I think you'll love what's coming. So strange... I thought that after quitting my full time job, I would have all the time in the world to develop and share a ton of recipes. Not so... I have been busier than ever preparing something special for you, something that is dear to my heart. Soon I'll be able to tell you what it is. And in the mean time, I hope you continue to follow me, as I will try to post at least one recipe per week on the blog.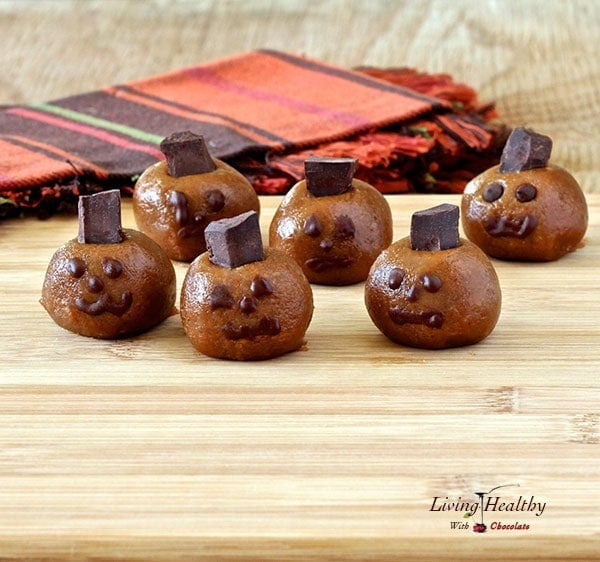 Since Halloween is coming up so soon, I thought it would be a good time to come up with a healthy treat that both adults and kids would enjoy. Pumpkin is everywhere, so using it in this recipe was a must for me.
Don't you think these pumpkin heads are cute? They are delicious too! They are soft, sweet, and full of flavor. They have a unique taste, truthfully not comparable to anything I have eaten or made before. They are made with pumpkin puree and almond butter, sweetened with dates, and spiced with cinnamon. The dark chocolate not only makes these little truffles come alive, they add a decadent chocolaty flavor.
Halloween does not have to be just about trick or treating with sugar-loaded, teeth-rotting, disease-causing candy. There are healthier options, and my blog is full of them. Take for example my recipes for Ghost Truffles, Twix Candy Bars, and Almond Joy Candy Bars. All of these take less than 30 minutes to make, and are full of healthy fats, minerals and vitamins. You will not find any franken-candy on my blog. So go ahead and browse the recipes on my website, make these little Almond Butter Pumpkin Heads and let me know what you think in the comments below. Happy Halloween 🙂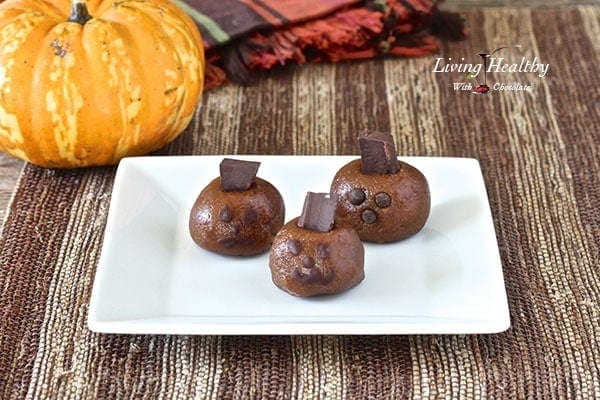 SHARE THIS RECIPE!
Almond Butter Pumpkins (Paleo, gluten/grain-free)
Instructions
In a food processor, pulse together the pumpkin puree, almond butter, coconut oil, dates, vanilla extract and honey until the mixture is creamy and smooth.

Add the almond flour, flaxseed meal, cinnamon and salt, and pulse to combine ingredients. Scrape the side of the bowl if necessary.

Place mixture in a bowl, and freeze for 20-30 minutes.

Roll chilled mixture into balls, about 1 ½ tablespoons per ball, then set on a sheet lined with parchment paper. Freeze for another 20 to 30 minutes.

Cut dark chocolate into small squares, then place it on the to of each ball.

Melt chocolate in a bowl over simmering water (double boiler), then using a wooden stick or a piping bag with a small round tip attached, draw pumpkin faces on each truffle.

Serves: 10. Keep Refrigerated.