With Halloween coming up so soon I was determined to develop a recipe for one of my favorite candy bars. I asked myself many times how a Twix Candy can possibly be made paleo and healthier than the original. Well, I have to warn you before you make this because this recipe I developed is very close to the original and is amazingly delicious and almost impossible not to eat the whole batch all at once!
The cookie is made entirely of unprocessed ingredients. It consists mostly of almond meal, arrowroot powder and coconut oil (or butter). It has a perfect crumbly and crunchy texture that resembles the original candy bar's cookie very well.
Each cookie is topped with a homemade caramel sauce that is made purely of raw coconut sugar and coconut milk. Each cookie is then dipped in melted dark chocolate and placed in the fridge until the chocolate hardens. …amazing, delicious and irresistible!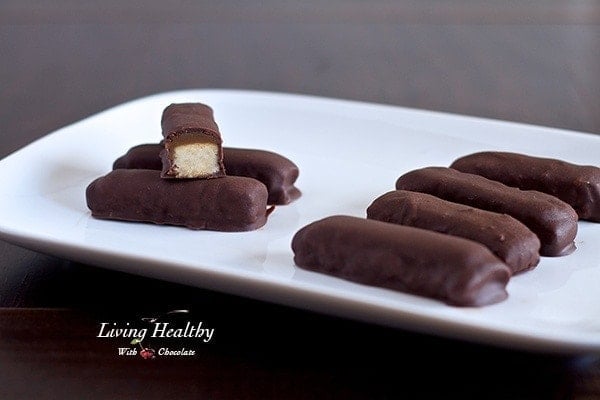 SHARE THIS RECIPE!
Paleo Twix Candy Bar Recipe (gluten, grain, dairy, refined sugar free, low carb)
Instructions
Cookie:
in a large bowl, mix the almond flour, arrowroot powder and salt

in a separate bowl whisk together the coconut oil, vanilla and honey

using a rubber spatula, gently mix wet and dry ingredients together. Do not over mix or the batter will become oily.

line a cookie sheet with parchment paper and shape the dough into a square of about 1/4-inch thickness

bake at 350°F for 10-15 minutes or until the edges and top start to turn brown

remove from oven and immediately cut into approximately 14 1x3-inch pieces using a knife or pastry chopper. Do not separate the pieces

set cookie sheet on a wire rack to cool, then separate each piece

make the caramel according to

this recipe

and after it cools spread evenly across the top of each cookie

refrigerate until caramel hardens

melt the chocolate chips and cacao butter slowly in a double boiler

dip each cookie, one at the time in the melted chocolate

placed dipped cookies on parchment paper and refrigerate until set
Recipe yields about 14 1×3-inch twix bars. Store in an airtight container in the fridge.