This Dark Chocolate Orange Almond Tart is like no other pie you have seen or tasted before. Made with a cocoa almond crust, filled with caramelized maple oranges and almonds, and topped with a silky smooth dark chocolate ganache.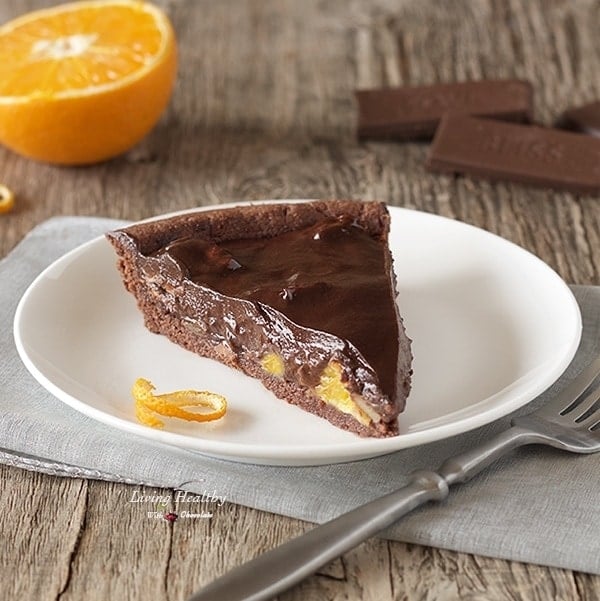 Unlike other pies, this tart is made with wholesome, nutrient-dense ingredients, and is gluten-free, grain-free, dairy-free, refined sugar-free, and soy-free. Is this tart even good enough to eat for breakfast? I think a little bite after having a breakfast rich in healthy proteins and fats is a yes.
This tart may be lacking loads of sugar and other processed ingredients, but it's not lacking flavor. In fact, because it is made with real whole food ingredients, it tastes amazing! You can actually taste the almonds, the sweet juicy oranges, and the rich cacao in the dark chocolate. The texture is creamy and the almonds give it a great crunch.
Who could ever imagine that a tart so decadent as this could be made so healthy and taste this good?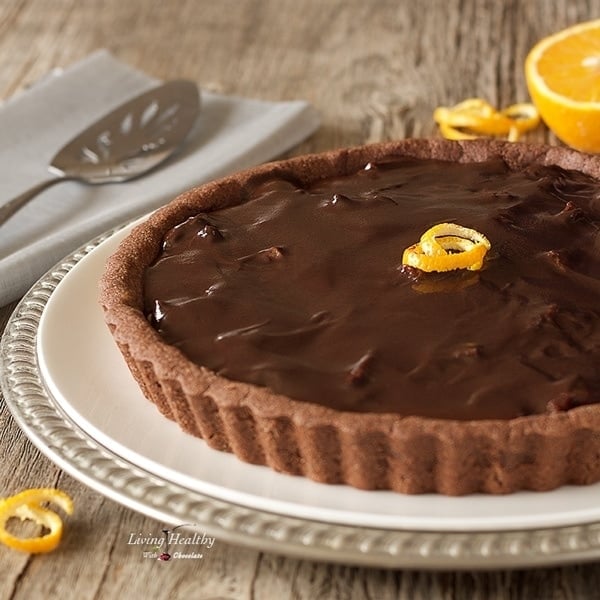 Although this pie looks fancy, it is pretty easy to make.
For the crust, you need to mix the wet and dry ingredients in a bowl. Then, you press the dough into the pan and bake for 15 minutes.
For the filling, you simply need to caramelize the oranges and almonds in the oven with a little maple syrup, and spread it over the crust.
Then comes my favorite part, the chocolate ganache. Making this ganache is as simple as heating the coconut milk in a saucepan, then pouring it over chopped chocolate and mixing to combine the two ingredients into a silky smooth chocolate sauce.
♥ ♥ ♥
In this recipe I used a 60% dark chocolate by ALOHA. Their chocolate has a unique and delicious taste like no other chocolate I have ever tried. ALOHA's chocolate is made here in the US from Peruvian fair-trade organic cacao. The chocolate is sweetened with coconut sugar, and all the ingredients they use are organic. Also, all of their products are Paleo, Vegan, gluten-free, dairy-free, and soy-free.
But I think what distinguishes the flavor of this chocolate so much from other dark chocolates is the special blend of nutritious superfood greens they use. Take a look at the list of ingredients below:
Peruvian Fair-Trade Raw Cacao Nibs* / Beans* (60% Cacao), Balinese Coconut Sugar*, Ecuadorian Raw Cacao Butter*, Daily Good Greens Chocolate**, Philippine Raw Coconut Flakes*, Vietnamese Raw Cashews*, Tahitian Vanilla Bean*.
------------
**Daily Good Greens Chocolate Blend: Fair-Trade Cacao*, Coconut Sugar*, Coconut Water*, Peas*, Maple Sugar*, Spinach*, Wheatgrass Juice*, Sustainable Moringa, Wild Blueberries*, Raspberries*, Sunflower Lecithin*, Xanthan Gum, Spirulina*, Beet Juice*, Vanilla Bean, White Button Mushrooms*, Hawaiian Red Alaea Salt, Monk Fruit Extract.
*Organic
Looks pretty good uh?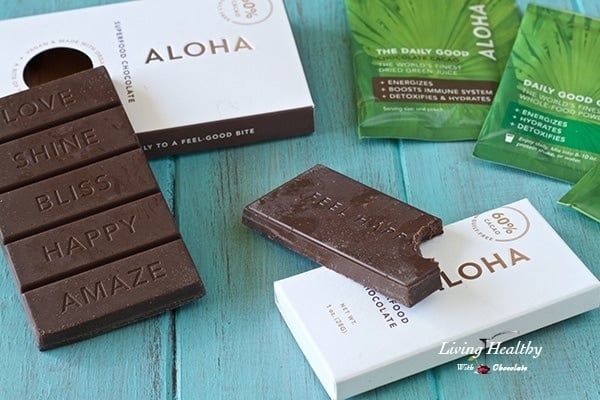 I also love the company's mission to maintain sustainability and a healthy lifestyle with food and lifestyle choices. This company is definitely living up to it's name by bringing ALOHA to their customers.
Look how cute their chocolates are. Every bar they sell comes with motivating prints on them ☺
You can check them out at ALOHA.com.
I am sure you guys are going to love this recipe and for sure it will please your guests. Enjoy and please leave your thoughts and feedback in the comments below. Hearing from you is the best part of my work! 🙂
📖 Recipe
SHARE THIS RECIPE
Dark Chocolate Orange Almond Tart
To see the brands I use, click each ingredient above or visit my Amazon shop.
Instructions
Crust:
Preheat the oven to 350°F. Grease the bottom and sides of a

9-inch tart pan

with coconut oil and line the bottom with parchment paper.

In a large bowl, mix the almond flour, cacao powder, coconut flour and salt.

Whisk the coconut oil and maple syrup in a separate bowl until combined. Pour mixture into the bowl with the dry ingredients and using your hands mix to form the dough.

Press the dough into the bottom and sides of the prepared tart pan. Poke a few holes in the center of the crust with a fork, and bake for 15 minutes or until the top begins to turn brown. Set the pan on a wire rack to cool.
Filling:
Line a cookie sheet with parchment paper or silicon mat.

In a large bowl, mix the oranges, almonds and maple syrup. Spread the mixture onto the cookie sheet, and bake at 350°F for 15 minutes. Set pan on a wire rack to cool for 10 minutes, then sprinkle the mixture evenly over the crust.

Chop the chocolate into small pieces and put in a heat-proof bowl.

In a medium saucepan, heat the coconut milk over medium-high heat just until it starts to bubble, then pour the hot milk over the chocolate, and let it sit for 5 minutes. Stir the chocolate and milk, starting from the center with a metal spoon or whisk until combined.

Pour chocolate over the oranges and let it sit at room temperature for 10 minutes. Refrigerate tart for about 1 hour or until the chocolate is set. Remove tart from pan and serve.
Notes
- 1 cup of oranges is about 1 large orange
- Don't like oranges? Try making this pie with your favorite fruit (strawberries, raspberries, peaches, cherries, etc.).
Nutrition per serving
Calories:
372.3
kcal
Protein:
7.7
g
Fat:
27
g
Saturated Fat:
12.1
g
Sugar:
19.9
g
Fiber:
6.3
g
Carbohydrates:
31.6
g
Net Carbs:
25.3
g
*This post may contain affiliate links and as an Amazon Associate I earn from qualifying purchases. Please read my disclosure policy for more details.
Made this recipe?
Please leave a review and photo in the comments below.