A few weeks ago we were having my Paleo Chocolate Ice Cream for dessert and my friend suggested I make a caramel sauce to go along with it.  At first I didn't think it was a good idea because caramel sauce is usually really sweet. A basic caramel sauce is made with sugar, water, cream or milk and vanilla extract. I then thought that if I am just drizzling a little caramel sauce over my ice cream that it would give it just the right kick and make it that much better.
Here is my Paleo version of a caramel sauce that I will be serving along with ice cream for some friends. There are only four ingredients needed: water, raw coconut palm sugar, coconut milk and vanilla extract. The texture is smooth and creamy like we are used to. I have found that using different brands of coconut milk tend to change the flavor slightly depending on the brand. You may want to experiment with a few different brands until you find the flavor that you like most.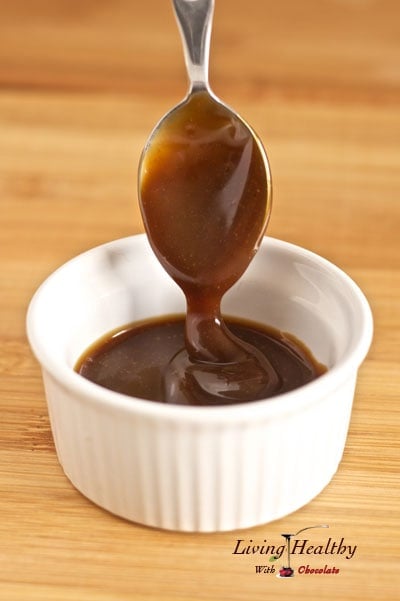 Making caramel sauce is actually much easier and faster than you may think. You will just need to dissolve the coconut palm sugar in water and then add the coconut milk and vanilla and stir it continually so that it does not burn. If you over cook the caramel and it is thicker than you prefer, add some water a little at the time until you achieve the desired consistency.
This recipe makes a very small amount, approximately 1/3 cup of caramel. Store it in an air tight jar and it will keep in the fridge for about a month.

Paleo Caramel Sauce
Author:
Living Healthy With Chocolate
Ingredients
2 tablespoons water
¼ cup raw coconut palm sugar
½ cup coconut milk
1 teaspoon vanilla extract
pinch salt
Instructions
bring the water and coconut palm sugar to a boil stirring the mixture constantly
add the coconut milk vanilla extract and salt and cook for about 10 minutes over medium heat, stirring constantly so that it doesn't burn. The mixture will start to thicken and turn darker in color.