Have you ever had avocado bread? This bread is made with buttery avocado goodness and chocolate. This is a great combination because the avocado adds healthy fats and nutrients to this dessert, while the chocolate hides the flavor of the avocado. You are then left with a chocolaty tasting bread that is creamy and moist.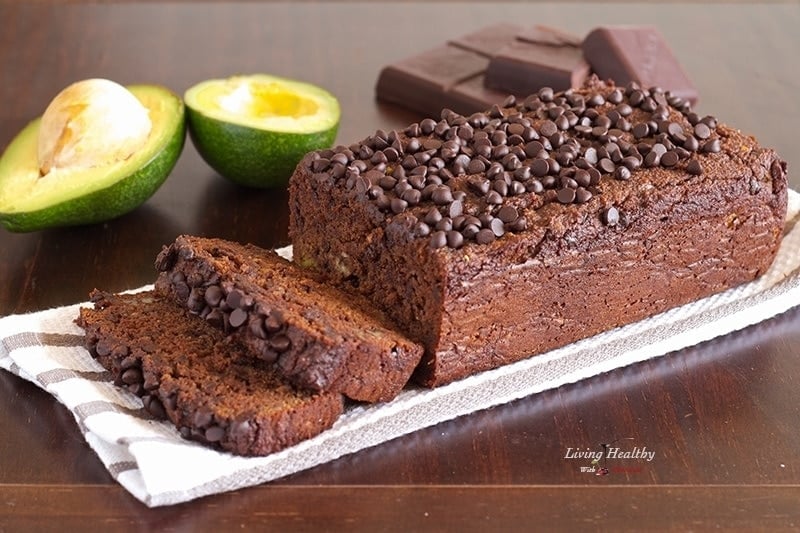 I have seen a lot of recipes coming out lately for mousses with the main ingredients being avocado and chocolate, so why not turn these two ingredients into a loaf that you can take with you anywhere for a snack?
Like everything else I make, this Avocado Chocolate Bread is gluten and grain free. It also contains no dairy for those of you that are lactose intolerant.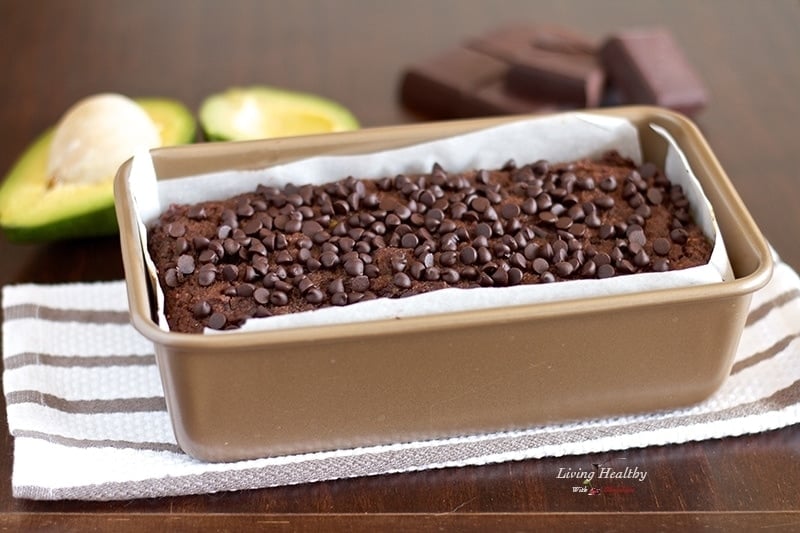 Avocado Chocolate Bread (Gluten and Grain Free, Dairy Free)
Author:
Living Healthy With Chocolate
Ingredients
1½ cup avocado, mashed
3 tablespoons coconut oil, melted
1 teaspoon vanilla extract
2½ tablespoons coconut cream (cream that forms on the top of a can of coconut milk when can is left in the fridge overnight)
3 tablespoons raw honey
2 eggs
½ cup pecans
2 cups almond flour
1 teaspoon baking soda
¼ cup raw cacao powder
½ teaspoon salt
⅓ cup chocolate chips
Instructions
add the avocado to a food processor and pulse until creamy
add the coconut oil, vanilla, coconut cream, honey and eggs to the avocado and pulse to combine ingredients
chop the pecans and mix with the almond flour, baking soda, cacao powder, salt and chocolate chips in a large bowl
combine wet and dry ingredients and mix gently with a rubber spatula. Do not over mix.
spoon batter into an 8½ x 4½-inch medium loaf pan lined with parchment paper and sprinkle top with chocolate chips. Note: the batter will be very thick and you will need to spread it across the pan with a spatula.
preheat oven at 350°F and bake until a toothpick inserted into the center of the loaf comes out clean, approximately 45 minutes
let it cool on a wire rack and serve.
to preserve freshness, place inside an airtight container and store in refrigerator