These soft butter cookies are light, chewy and utterly addictive! They're paleo, gluten free, grain free and low carb cookies.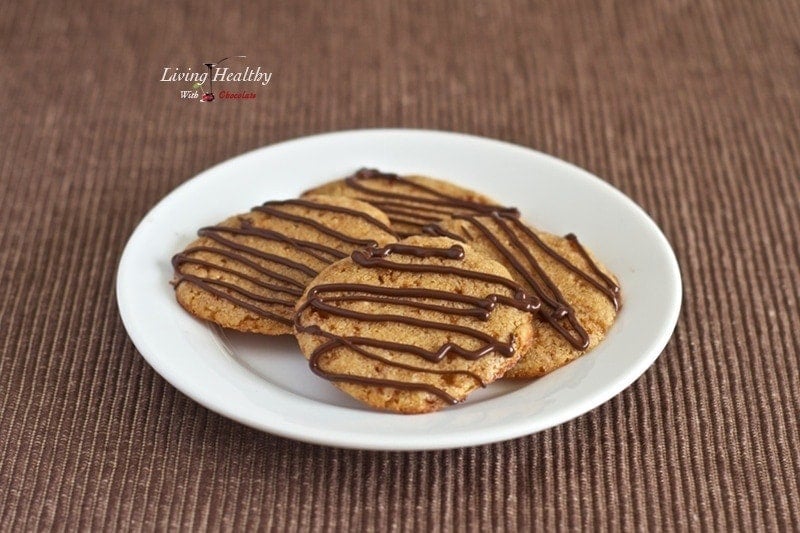 Eating healthy real foods has never been better since I found a way to turn junk food into amazing healthy treats like these Soft & Chewy Butter Cookies.
These cookies simply tasted amazing to me and they were a total accident. I was planing on making a completely different type of cookie, but after baking them and taking a bite, all I could say was OMG, so good, so buttery, so soft and delicious!
I had only made 5 of them and my husband and I ate all of them super fast. I doubled the recipe here so you can make 10 cookies, but honestly if you have kids or a big family you might have to triple or quadruple the recipe!
Butter is the focus in these cookies and for those of you that are going to tell me that butter is not strictly paleo since caveman didn't consume dairy products, please don't.
Butter is part of the modern paleo diet and it is an ingredient found on many paleo cookbooks and eaten by a lot of the big names on the paleo community. The reason is simply because butter from organic grass-fed animals is an extremely good source of fat and loaded with essential nutrients and vitamins. This article from the Paleo Diet Lifestyle website will help you understand the many benefits of consuming pastured butter.
For people who are sensitive to dairy or who just want to be on the safe side, choose ghee over dairy. Ghee, or clarified butter, should not cause any problem because all milk constituents have been removed. You can make it yourself by slowly melting butter in a pan until you see the white parts fall to the bottom and then straining it in a cheese cloth to keep only the pure fat. There are many videos on youtube showing the process.
There are many high quality foreign and domestic brands of butter to choose from, but my favorite is Kerrygold. Kerrygold makes butter and cheese from grass fed cows that live in a vast number of small local Irish farms. You can find Kerrygold products at Whole Foods and even at Costco!
SHARE THIS RECIPE
Paleo Soft & Chewy Butter Cookies (Gluten Free, Grain Free, Low Carb)
To see the brands I use, click each ingredient above or visit my Amazon shop.
Instructions
Using a hand or stand mixer cream the butter and coconut sugar.

Add the egg whites followed by the vanilla extract.

Turn off your mixer and use a spatula to mix in the almond flour until all ingredients are incorporated (the batter will be soft).

Spoon about ½ tablespoon of the batter for each cookie onto a baking sheet lined with parchment paper, spacing them 2 inches apart giving them room to spread while baking.

Bake at 350°F for 10 minutes or until light golden brown around the edges. Let cookies cool on the baking sheet over a wire rack.

Melt dark chocolate in a bowl over simmering water (double boiler) and drizzle on top of the cooled butter cookies.
Notes
Recipe makes 10 cookies. Store in an airtight container at room temperature or in the fridge.
Nutrition per serving
Calories:
109.4
kcal
Protein:
2.3
g
Fat:
9.2
g
Saturated Fat:
4.3
g
Sugar:
2.8
g
Fiber:
1.1
g
Carbohydrates:
5
g
Net Carbs:
3.9
g
*This post may contain affiliate links and as an Amazon Associate I earn from qualifying purchases. Please read my disclosure policy for more details.
Made this recipe?
Please leave a review and photo in the comments below.