These Cookie Dough Oreo cookies are crunchy and have that dark chocolate flavor of the traditional oreo cookies. Filled with a healthy almond flour cookie dough that you'll love. This recipe is easy to make and delicious!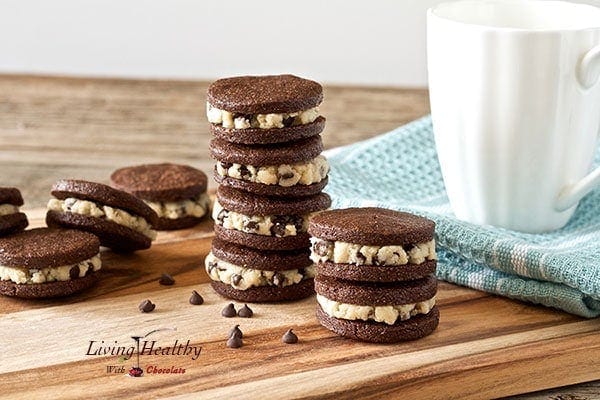 Today I am super excited to share this recipe with you!
Not only am I excited because these cookies taste delicious, but also because I just created my first recipe instructional video. This video shows you each step for making these cookies.
I love editing and creating videos and I have wanted to make videos of my recipes for a long time now. This first video was more of an experiment and I would love to hear your thoughts and feedback. I do want to make instructional videos and show you exactly how I make my recipes, but I'd love to hear your feedback and suggestions first. So please take a moment and leave me your comments below.
More cookies recipe ideas
🎥 Watch the recipe video
Paleo Cookie Dough Oreos Recipe | Living Healthy With Chocolate
Now let's talk about these Cookie Dough Oreo Cookies... These are seriously delicious!
I am glad the recipe makes just a few cookies and I have a lot of friends and neighbors around or I would be in trouble for eating too many.
The Oreo cookies are crunchy and have that dark chocolate flavor of the traditional cookies. They don't taste the same as the original store bought cookies, but I bet you will agree with me that these taste much better. They are not as sweet and definitely do not have that processed flavor.
Now the cookie dough as the filling... Sometimes a little creativity goes a long way... Did I mentioned that the cookie dough is raw and there is no need to bake it at all? And how about the fact that it is made with simply 5 nutrient rich ingredients?
I bet you guys are dying to try these. I wish I could invite each and every one of you to come to my home in Hawaii and sample them. Not to worry though, below is the recipe and step-by-step instructions for you to follow along and make them at home.
📖 Recipe
SHARE THIS RECIPE
Cookie Dough Oreo Cookies (Gluten-free, Paleo)
To see the brands I use, click each ingredient above or visit my Amazon shop.
Instructions
Oreo Cookies:
Preheat oven to 350°F and line a cookie sheet with parchment paper.

Melt chocolate chips in a bowl over simmering water (double boiler). Remove bowl from heat and whisk in the coconut oil, vanilla extract and egg.

In a separate bowl, mix together the almond flour, raw cacao powder, baking soda and salt.

Mix wet and dry ingredients together gently using a rubber spatula, just until ingredients are combined. Cover dough and freeze for about 15 minutes.

Using a rolling pin, roll chilled dough in between two sheets of parchment paper to ¼-inch thickness.

Cut cookies with a round 2-inch cookie cutter and bake for 10-12 minutes.

Let cookies cool on the baking sheet for 5 minutes, then transfer to a wire rack.
Cookie Dough:
In a large bowl, whisk together the coconut oil, honey and vanilla.

Add the almond flour and chocolate chips, and using your hands gently mix ingredients together. Do not over mix the dough or it will get oily.

Roll cookie dough into small balls (I use about 2 teaspoons of cookie dough for each cookie).

Press cookie dough in between two cookies gently so that the cookies don't break and the cookied dough spreads.
Notes
If the dough gets sticky or is hard to work with, return it to the freezer for another 10-15 minutes. Working with the dough cold is a lot easier, so return it to the freezer as necessary.
Recipe makes about 13 Oreos. Store in an airtight container at room temperature or in the refrigerator.
Nutrition per serving
Calories:
241.1
kcal
Protein:
4.8
g
Fat:
21.2
g
Saturated Fat:
10.8
g
Sugar:
6.4
g
Fiber:
2.7
g
Carbohydrates:
11.5
g
Net Carbs:
8.8
g
*This post may contain affiliate links and as an Amazon Associate I earn from qualifying purchases. Please read my disclosure policy for more details.
Made this recipe?
Please leave a review and photo in the comments below.