These delicious Easter Cookies Nests require no baking and take less than 30 minutes to make. Your kids will love the sweet chocolate cookies, topped with coconut and chocolate covered almonds! Gluten-free, Vegan, Paleo.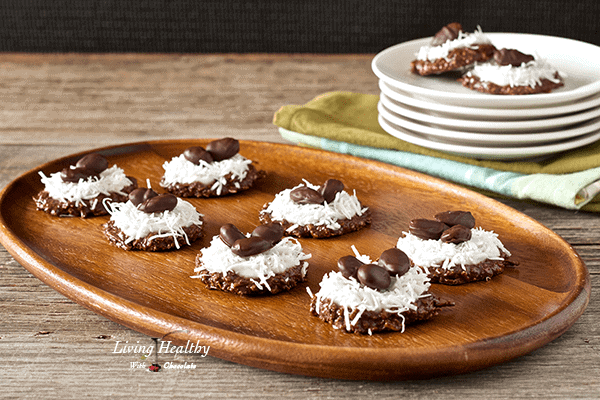 Hey everyone! Let's make Easter fun and healthier for kids this year!
Easter is coming in just a few days and I wanted to give you a better alternative to store bought Easter eggs and other sweets that your kids will enjoy.
I came up with these No Bake Cookie Nests that are super simple to prepare.
The cookies require no baking and take less than 15 minutes to make.
As a healthy alternative to candied eggs, I decided it would be cool to dip some raw almonds in dark chocolate and used them to decorate the nests as little chocolate eggs.
The nests are made with coconut butter and unsweetened shredded coconut. Coconut and chocolate together are an awesome combination and taste amazing.
Happy Easter everyone!
SHARE THIS RECIPE
No-bake Easter Cookies (Gluten-free, Vegan, Paleo)
To see the brands I use, click each ingredient above or visit my Amazon shop.
Instructions
Cookies:
Melt chocolate slowly in a bowl over simmering water (double boiler).

After chocolate has melted, remove from heat and mix in the cacao powder, coconut oil, honey, almond butter, chopped almonds and shredded coconut. Mix until everything is coated in chocolate.

Using a small cookie scoop (about ½ tablespoon), scoop 12 cookies onto a baking sheet lined with parchment paper.

Shape cookies by placing a small piece of parchment paper on the top and pressing to flatten cookie.

Refrigerate until cookies harden.
Nest:
Melt chocolate slowly in a bowl over simmering water (double boiler).

Dip almonds in the melted chocolate, a few at a time, and place them on a baking sheet lined with parchment paper. Refrigerate until chocolate hardens.

Add about 2 teaspoons of melted coconut butter to the top of each cookie, then sprinkle top with shredded coconut.

Place 2-3 chocolate-dipped almonds in the center of each cookies and serve.
Notes
Tip: To melt a jar of coconut butter, place the jar in a pot of simmering water, until melted, covering ¾ of the jar. This may take a few minutes.
Use the same method to melt the coconut oil.
Recipe makes 12 2-inch cookies. Store in the refrigerator.
Nutrition per serving
Calories:
271.2
kcal
Carbohydrates:
15
g
Protein:
5.1
g
Fat:
22.6
g
Saturated Fat:
10.8
g
Fiber:
5.2
g
Sugar:
7.7
g
Net Carbs:
9.8
g
*This post may contain affiliate links and as an Amazon Associate I earn from qualifying purchases. Please read my disclosure policy for more details.
Tried this recipe?
Share your review and photo in the comments below. Tag me on Instagram @livinghealthywithchocolate.