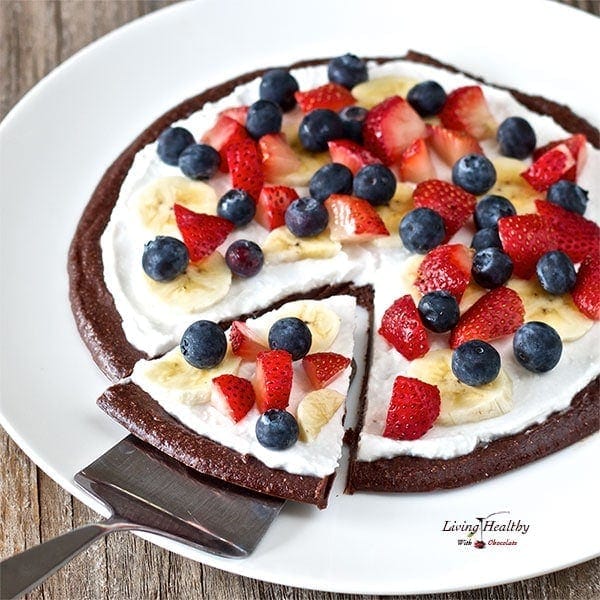 What I love about this recipe is that it is simple and easy to make. I usually keep a can of full fat coconut milk in my fridge all the time for recipes like this one. The white top layer of this pizza is simply the coconut cream that forms on the top of a can of full fat coconut milk when left in the fridge overnight. This coconut cream tastes awesome and it is a great dairy free alternative to yogurt.
The brownie layer is very chocolaty and that sweet chocolate flavor complements the coconut cream and berries really well. I like to load the top of my pizza with lots of berries. The berries give it that special flavor in my opinion.
This is a light dessert or snack that you can whip up very fast when your family is having one of those crazy sweet cravings 😉 Enjoy.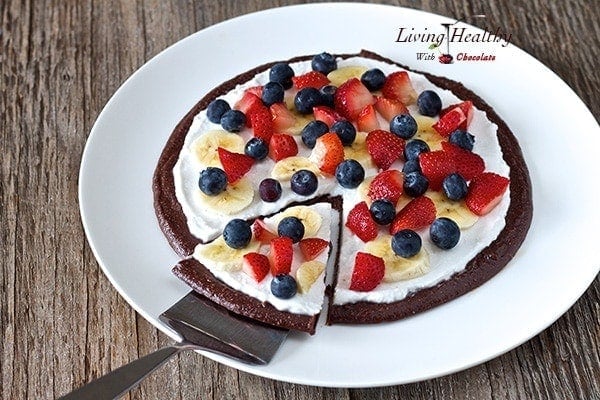 SHARE THIS RECIPE!
Raw Chocolate Brownie Fruit Pizza
Instructions
mix together the almond flour, raw cacao powder and salt

melt the chocolate chips slowly in a bowl over simmering water (double boiler)

once the chocolate melts, remove from heat and stir in the coconut oil, honey and vanilla

gently mix the flour mixture with the chocolate

line the bottom of an 8-inch round pan with parchment paper (for easy removal later) and spread the batter evenly over the pan

refrigerate brownie until firm then spread a thin layer of coconut cream over the top

top it with strawberries, bananas and blueberries and serve. Keep refrigerated.
Recipe Notes
*coconut cream – cream that forms on the top of a can of full fat coconut milk when left in the fridge overnight