All I can say about this recipe is OMG! This healthy, paleo version of chocolate fondue will change the way you think about living healthy while still being able to enjoy chocolate. The only problem here is that it is very difficult to not eat too much. The chocolate is creamy, light and not overly sweet.
Not only does this chocolate fondue taste delicious, it takes less than 10 minutes to make. So if you have company and want something quick and easy to serve for dessert, this is the perfect recipe that everyone will love.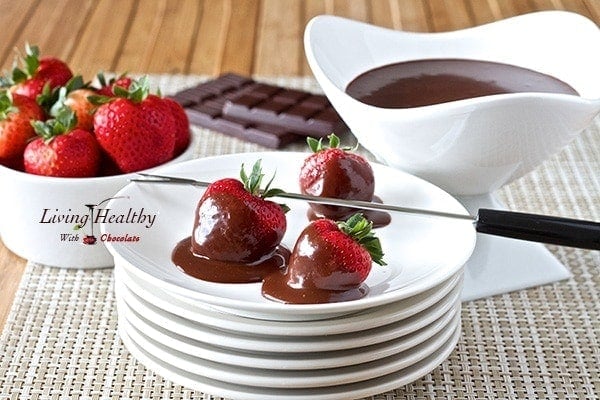 SHARE THIS RECIPE!
Paleo Dark Chocolate Fondue • dairy-free, soy-free, refined sugar-free
Instructions
Add all ingredients to a large heat-proof bowl.

Set bowl over a saucepan with a dash of water and simmer over low heat, making sure the water doesn't touch the bottom of the bowl (double boiler).

Stir until all ingredients are combined, and becomes thicker in consistency.

Serve immediately with fresh fruits, or pour in an airtight container and store it in the fridge. Re-heat the chocolate as needed.
Recipe yields approximately 1 cup. Keep refrigerated.