Lemon Chia Seed Muffins • paleo, low carb, nut-free, dairy-free, grain-free, gluten-free, refined sugar-free
Lemon poppy seed muffins are super delicious, but I wanted to create something a little different than the traditional recipe. After giving it some thought,  I came up with this recipe for lemon muffins and I decided to swap the poppy seeds for chia seeds. This added nutrients and texture to these muffin while retaining that great crunch I love from the poppy seeds.
On top of that, I wanted to make these muffins nut free for all my followers that have been requesting a nut free recipe due to their nut allergies. These muffins are super moist and have a great citrus flavor. Even though they are made with coconut flour, coconut milk and coconut oil, the citrus from the fresh lemon juice and lemon zest hides the coconut flavor beautifully. Enjoy.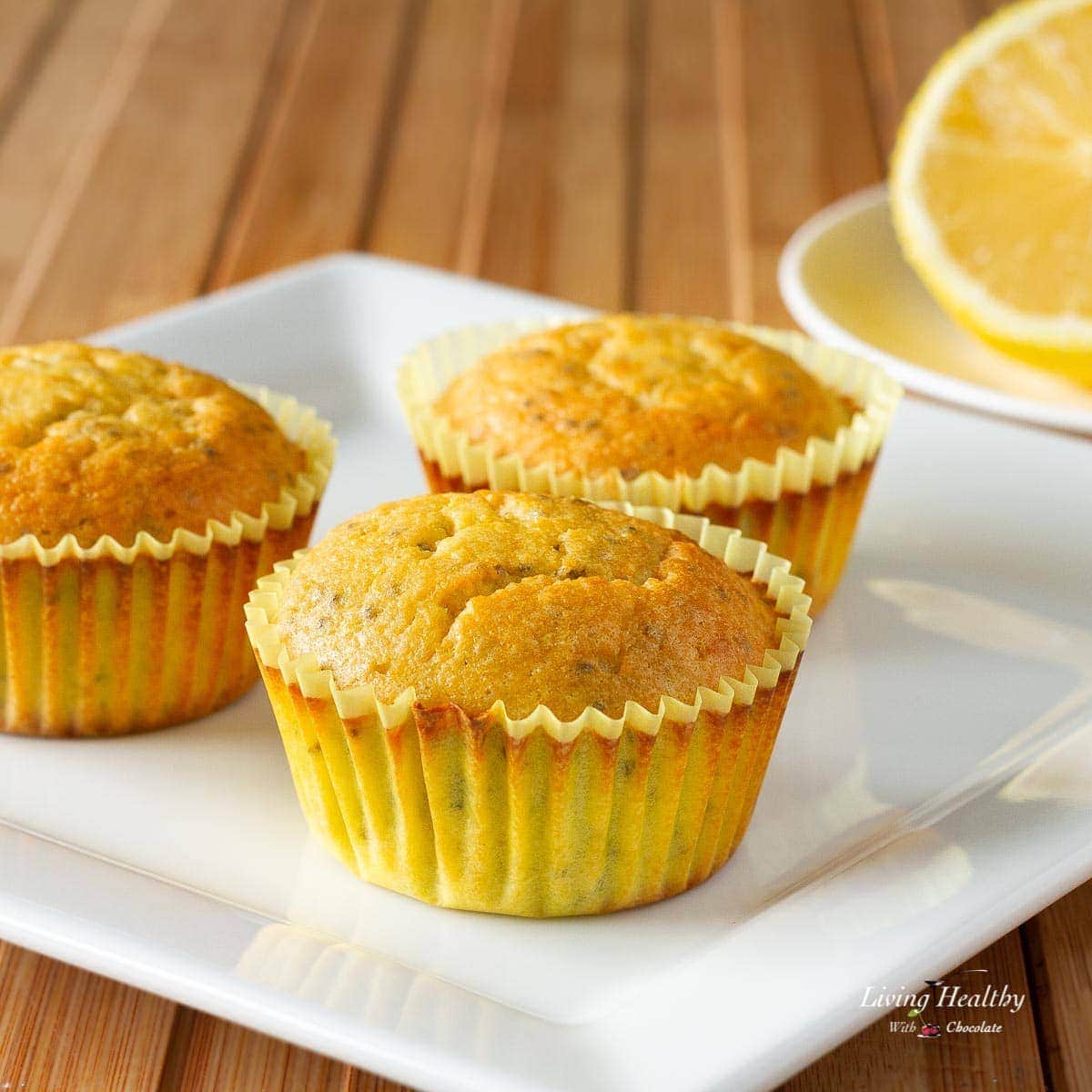 Paleo Lemon Chia Seed Muffins • low carb, nut-free, dairy-free, grain-free, gluten-free, refined sugar-free
Author:
Adriana Harlan - LivingHealthyWithChocolate.com

Ingredients
⅓ cup coconut flour
¼ cup tapioca flour
⅛ teaspoon baking soda
1 tablespoon chia seeds
¼ teaspoon salt
2 tablespoons coconut oil, melted
½ cup coconut milk, full fat
3 eggs, room temperature
3 tablespoons maple syrup
1 tablespoon lemon juice
2 teaspoons lemon zest
1 teaspoon vanilla extract
Instructions
mix together the coconut flour, tapioca flour, baking soda, chia seeds and salt
in a separate bowl, whisk together the coconut oil, coconut milk, eggs, maple syrup, lemon juice, lemon zest and vanilla extract
using a rubber spatula, mix wet and dry ingredients together to form a batter
pour batter into paper lined muffin pan cups and bake at 350°F for 30-35 minutes or until tops turn golden brown
set pan over a wire rack to cool
Recipe makes 6 muffins.