When George Bryant of CivilizedCavemanCooking.com and Juli Bauer of PaleOMG.com asked me to write a review of their new cookbook The Paleo Kitchen I was very honored! I have been following both their blogs for a very long time and this book is without a doubt one of the best Paleo cookbooks on the market today.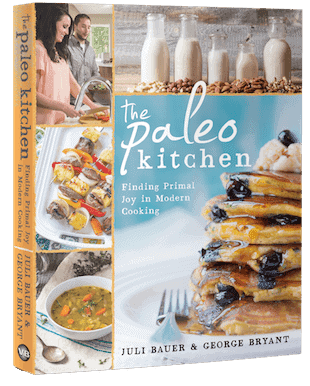 This book contains over 100 brand new Paleo recipes ranging from simple to make smoothies and snacks to mouth-watering pork, beef and chicken dishes that are sure to be a hit in any household.
The Paleo Kitchen is also packed full of helpful cooking tips, shopping lists, kitchen tools & equipment as well as a wonderful section on how to eat Paleo when eating out.
It should come as no surprise, but my favorite chapter in the book is of course the Desserts. George and Juli have come up with some amazing dessert recipes and when I saw the Macadamia Chocolate Chip Cookies I knew this was going to be the first recipe I made from the book.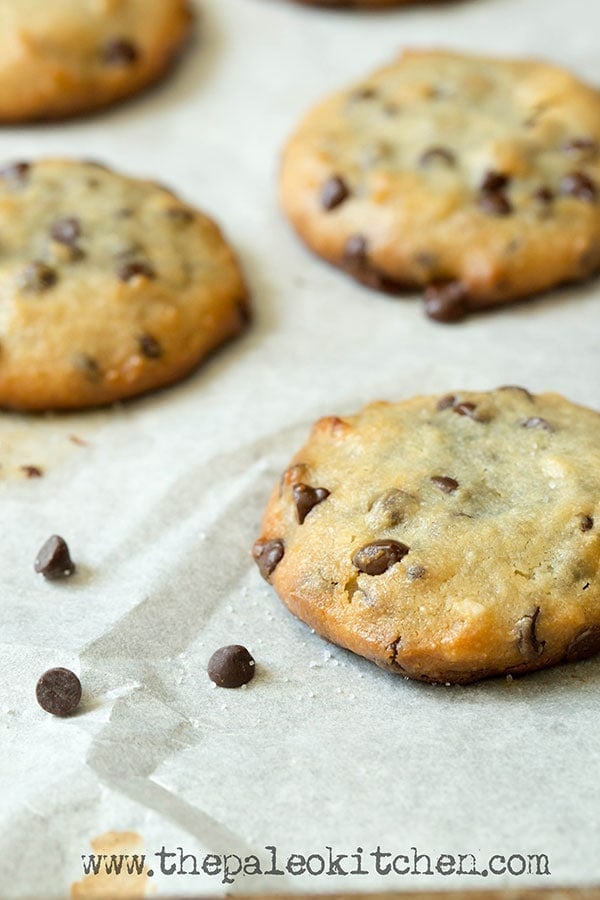 These cookies combine two of my favorite foods, macadamia nuts and chocolate and they turned out even better than I imagined! They are grain free, gluten free and dairy free.
Hit play on the video below to see how to make these delicious, healthy cookies step by step.
The Paleo Kitchen is a must have for anyone looking to transition to a paleo diet or anyone who may be skeptical about being able to still enjoy the foods they know and love. Filled with beautiful, full-color photos, this cookbook will get you started on a healthy, more energetic lifestyle and allow you to enjoy real foods that are free of chemicals and processed ingredients.
The Paleo Kitchen will be released on June 10th, 2014 but it is available for pre-order TODAY.
Please click on the link below to get your copy and SAVE 35% TODAY!

SHARE THIS RECIPE!
Macadamia Chocolate Chip Cookies Recipe
Ingredients
1

cup

220 grams homemade or store-bought macadamia nut butter (recipe below)

¼

cup

60 mL organic honey

¼

cup

50 grams coconut oil

1

teaspoon

vanilla extract

1

egg

,

50 grams

2

tablespoons

coconut flour

pinch

of salt

½

cup

90 grams Enjoy Life Mini Chocolate Chips
Instructions
preheat the oven to 350°F (175°C). Line two baking sheets with parchment paper.

combine the macadamia nut butter, honey, coconut oil, vanilla, and egg in a large bowl and mix well. Add the coconut flour and salt and mix well, then fold in the chocolate chips.

Refrigerate the batter until cold, about 10 to 12 minutes.

use a medium-sized cookie scoop to drop balls of cookie dough on the prepared baking sheet, 10 cookies per baking sheet. Bake for 13 to 15 minutes, or until the cookies are slightly browned. Remove from the oven and transfer to a rack immediately to cool.
Yield: 20 cookies
SHARE THIS RECIPE!
Macadamia Nut Butter Recipe
Ingredients
2

cups

264 grams raw macadamia nuts
Instructions
Place the macadamia nuts in a food processor or high speed blender and puree until smooth. Store in an airtight container in the refrigerator. This recipe will keep for up to 1 week.
Yield: 2 cups