You might be asking yourself how yogurt can be dairy free? I personally am a big fan of dairy products made from pastured animals, especially raw cheese and yogurt. However, today I wanted to create a dairy free treat for those of you who can not tolerate dairy well.
So to answer the question, this dairy free vanilla yogurt recipe is made using coconut milk, vanilla, arrowroot powder and lightly sweetened with raw honey.
Combined with blueberries, this is the perfect summer treat – creamy, fruity and ice cold! Not only that, but this incredibly refreshing dessert is also packed with vitamins, antioxidant and healthy fats. Enjoy!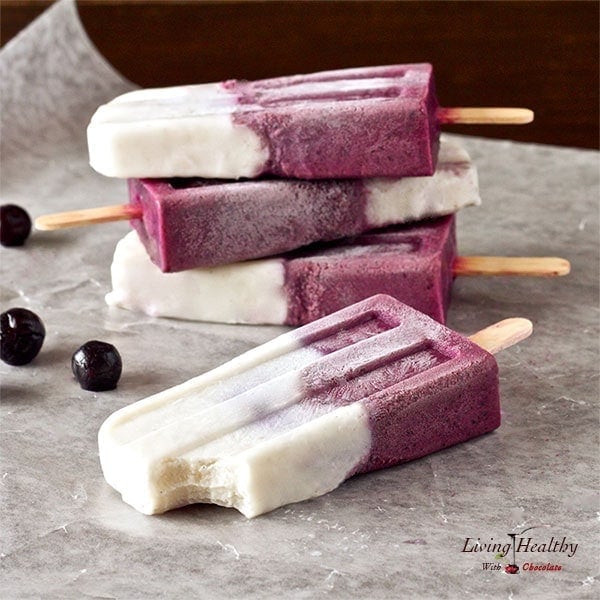 SHARE THIS RECIPE!
Dairy-free Blueberry Vanilla Yogurt Popsicles
Instructions
in a medium saucepan, whisk together the coconut milk, arrowroot powder and raw honey

heat the mixture over medium heat until it simmers and thickens, mixing constantly

let it cool for 5 minutes, then mix in the vanilla extract and powder

take 1 cup of the mixture (reserve the remaining 1 cup) and divide into 8 popsicle molds, about 1/3 full. Freeze for about 1 hour.

in a blender, combine blueberries with the reserved coconut milk mixture and blend until smooth

fill popsicle molds with blueberry mixture to the top and freeze for about 4-6 hours before serving
Equipment
Recipe Notes
*If you don't have vanilla powder, add an extra 1/2 teaspoon of vanilla extract.
⇒ Yields: 8 popsicles.