There are only 2 ingredients needed to make this delicious snack: coconut butter and chocolate chips.
Coconut butter is simply unsweetened dried shredded coconut pureed into a creamy butter. Sometimes it is called coconut cream concentrate or coconut manna. It is not the same as coconut oil. Coconut oil is the oil that is extracted from the meat. It is easy and cheaper to make your own coconut butter by processing the shredded coconut in a food processor or high speed blender, scraping the sides until a creamy paste is formed. You can buy already made coconut butter in stores and two of my favorite brands are:
Artisane Organic Coconut Butter
For the chocolate layer, I used Enjoy Life Chocolate Chips. These chocolate chips are delicious and are free of gluten, dairy, nuts and soy. You can also make your own chocolate following my recipe for homemade chocolate.
Below you will find a link to the silicone mold I used to make this fun treat that you and your kids will love.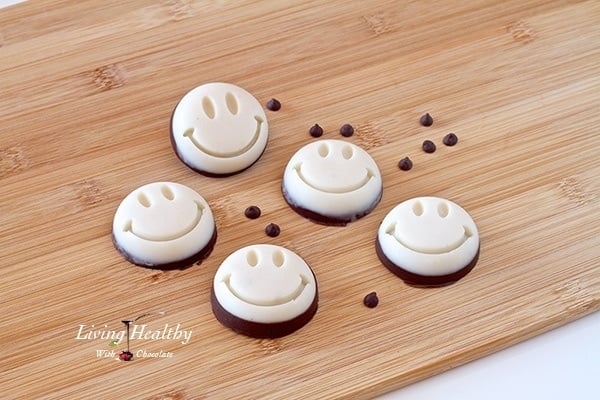 SHARE THIS RECIPE
Chocolate/Coconut Smiley Treats (paleo, gluten, dairy, nut, soy free)
To see the brands I use, click each ingredient above or visit my Amazon shop.
Instructions
fill the

smiley face silicone mold

half way with melted coconut butter and refrigerate. If your coconut butter is solid, place the jar in a bowl of hot water until it melts.

melt the chocolate chips in a bowl over simmering water and pour over the coconut butter

return to the fridge until it hardens completely before removing it from the mold.
*This post may contain affiliate links and as an Amazon Associate I earn from qualifying purchases. Please read my disclosure policy for more details.
Recipe yields 5 Chocolate/Coconut Smiley Treats. Keep refrigerated.