This is one of those pies you want to make when you want to impress your guests with a dessert that is  healthy, gluten and grain free and Paleo. It is also dairy free and egg free and super easy and fast to make. There is also no need to bake the crust, it is delicious as is. No one would even notice its made with healthy fats 😉 I got a huge wow from my neighbors and husband when I let them try it….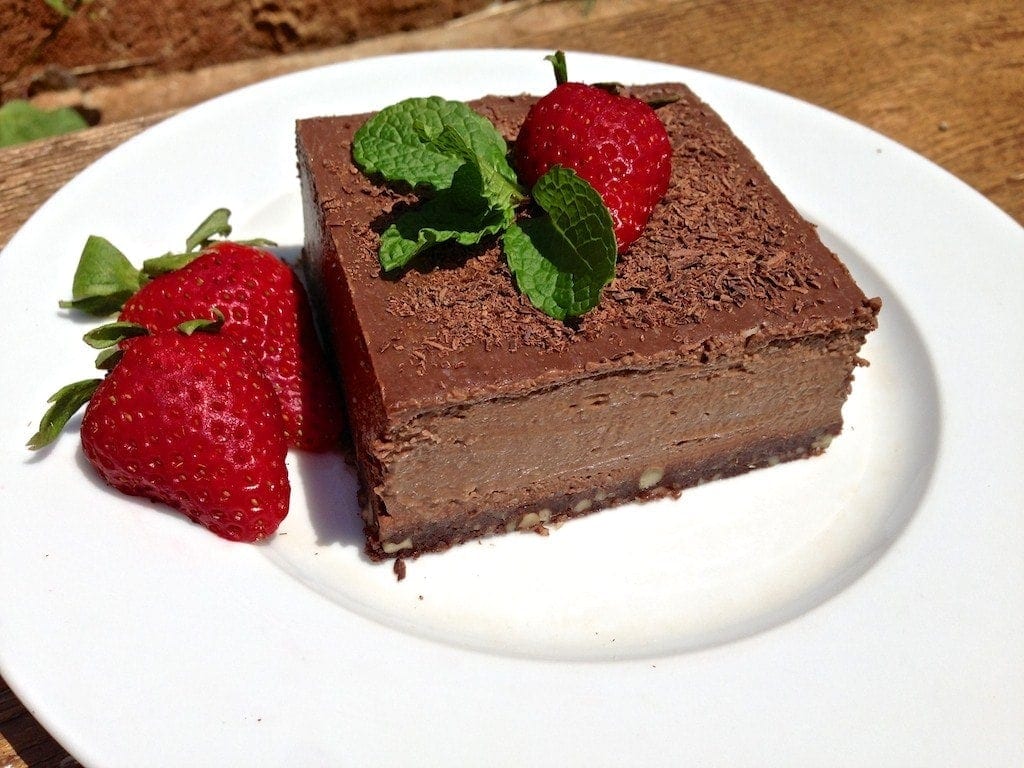 I decorated mine with cacao paste flakes, mint and strawberries
SHARE THIS RECIPE!
Chocolate Truffle Pie (Dairy Free, Gluten Free, Grain Free, Paleo)
Ingredients
Chocolate Truffle Filling:
Instructions
Crust:
grind the pecans until coarse meal using a food processor or a blender and place it in a bowl

remove pits from dates and process until creamy

mix the dates with the ground pecans, cacao powder, vanilla and coconut oil

line a 7×5 glass baking dish with parchment paper and spread the mixture until evenly distributed
Chocolate Truffle Filling:
in a saucepan mix the coconut milk and coconut oil and heat it until it starts to bubble, but not boil

remove from the stove and mix in the dark chocolate, vanilla and cinnamon

return to the stove and simmer for about 3 minutes, stirring constantly

spread the mixture evenly over the crust and freeze for about 3 hours

let it sit at room temperature for 5 minutes before serving. Keep frozen.