Here's my sad story after I made these bars 🙁
When I was preparing to take the photos of it I dropped the whole plate on the ground!! I was so sad!!! I cut all the bars perfectly and arranged them all on the plate so nicely and as soon as I put the plate on the table to photograph it, it falls and makes a huge mess! I had no time to re-make this so I try to put them back together as best as I could to take this photo. I hope this photo is good enough and you can see how delicious these bars are.
The chocolate fudge is chocolaty, creamy and soft and goes perfectly with this sugar free strawberry jam I made. It's almost like eating chocolate covered strawberries along with a sweet, nutty cookie....
These Chocolate Fudge Strawberry Cookie Bars are Paleo, gluten free, grain free, dairy free and refined sugar free.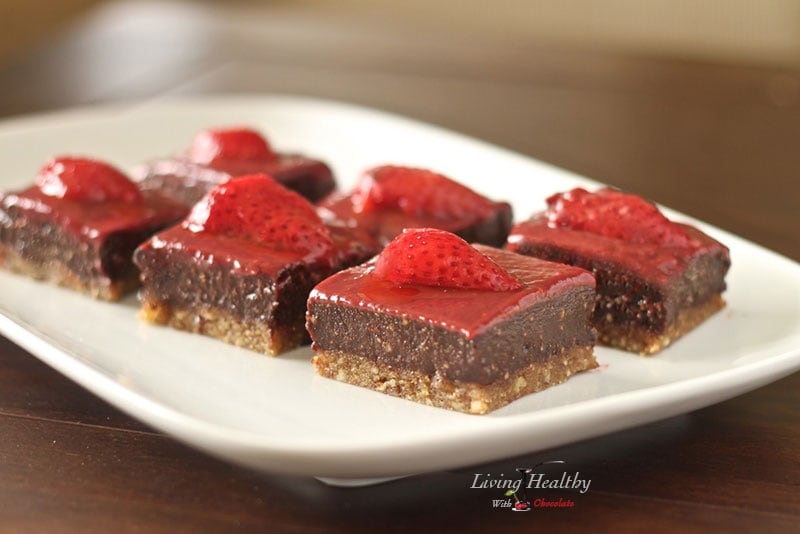 SHARE THIS RECIPE!
Chocolate Fudge Strawberry Cookie Bars (Paleo, Gluten Free, Dairy Free)
Ingredients
Strawberry Jam:
Instructions
Cookie:
using a food processor grind pecans into course meal and set aside in a medium bowl

remove pit from dates and process into a creamy paste using a food processor

mix the pecan meal with the almond flour, cacao powder, date paste, vanilla extract and coconut oil

line a 7×5-inch baking dish with parchment paper and pat the mixture on the bottom until evenly distributed
Chocolate Fudge:
bring the almond milk to a light boil, remove from stove and stir in chocolate chips until chocolate is melted

whisk in the raw cacao powder, coconut oil, vanilla, honey and salt

finally mix in the almond butter until all ingredients are combined. Do not over mix or the fudge will become oily.

pour the chocolate fudge mixture over the cookie and refrigerate

refrigerate for a couple of hours, cut into squares and top with strawberries
Recipe serves approximately 6-10 people. Keep refrigerated.