Ok, lets start off by saying that these Chocolate Covered 'Peanut' Butter Pops contain NO peanuts. These are made with sunflower seed butter instead of peanut butter, and as many of you know sunflower seed butter tastes very similar to peanut butter.
They are easy to make and a fun treat to have around when kids want a little sweet snack. Although the sunflower seed mixture is not very sweet, it becomes just sweet enough when dipped in chocolate. I used a brand of chocolate chips called Enjoy Life Chocolate Chip and these contain no dairy, soy, nuts or gluten.
These Chocolate Covered "Peanut" Butter Pops are grain free, gluten free and peanut free. If you want to make them dairy free as well, simply substitute the butter for coconut oil.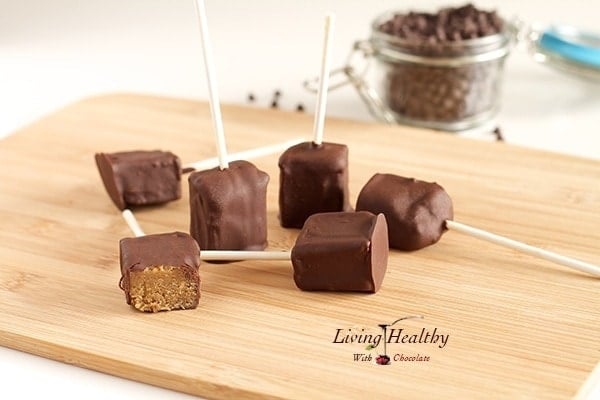 SHARE THIS RECIPE!
Chocolate Covered "Peanut" Butter Pops
Instructions
in a large bowl, using a rubber spatula, mix the almond flour, flaxseed meal, salt, butter, coconut milk, vanilla and sunflower seed butter until ingredients are combined. Do not over mix.

line an

8½" x 4½" medium loaf

pan with parchment paper and pack the mixture across one edge of the pan to about 1.5-inches deep and 3.5-inches long. To fill the pan, triple the recipe.

place pan in the freezer until mixture is set, then cut into squares of about 1.5-inches and insert a stick halfway into each square. Keep pops frozen until ready to dip in chocolate.

melt the chocolate chips and coconut oil in a bowl over simmering water (double boiler) and dip each 'peanut' butter pop in the melted chocolate, one at the time
Recipe makes 6 "Peanut" Butter Pops. Store in an airtight container in the fridge.