I am so exited to share this recipe with everyone! Yesterday I posted my recipe for Ice Cream Chocolate Fudge Topping and promised today I would post the recipe that I made to accompany it.
The reason why I am so excited about this particular recipe is because for the first time I was able to make an ice cream that would stay creamy and smooth even after being frozen for hours. This was crucial to me because I wanted the combination of the brownie and the ice cream to be perfect and not icy. The big secret to make the ice cream so creamy and retain that consistency after hours in the freezer is arrowroot powder. Arrowroot powder helps prevent ice crystals from forming on your ice cream and keeps it from turning hard as a rock in the freezer.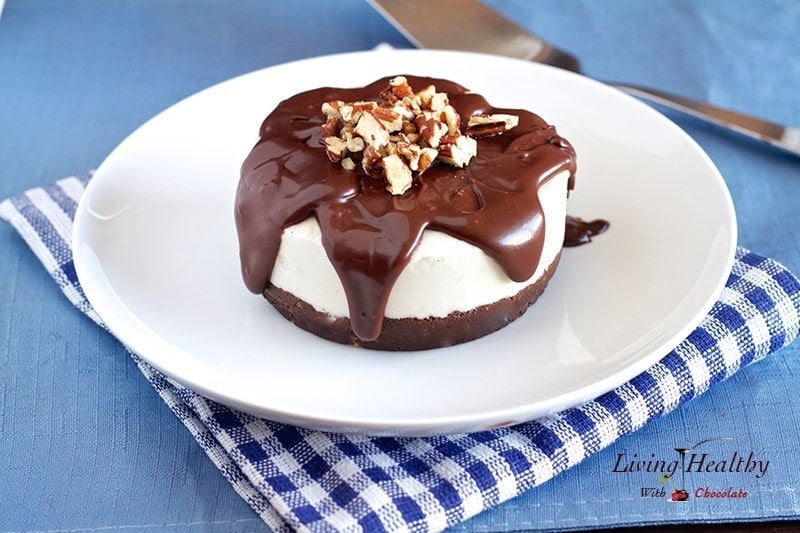 The brownie layer on this dessert is also what makes this simple vanilla ice cream into a decadent dessert that everybody will be asking for more. My husband took a few bites of it after I went to sleep and I never got a chance to ask him what he thought. The next morning when I asked him, he went on and on about how good it was and that is was the best ice cream dessert I had made!
There is no need to bake this brownie as it is made simply with almond flour, pecans and dates. The whole dessert is 100% grain free and dairy free.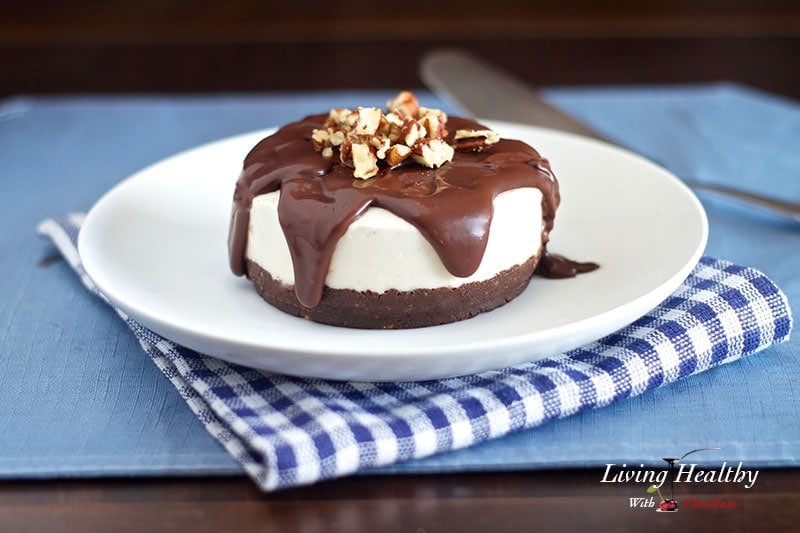 📖 Recipe
SHARE THIS RECIPE
Decadent Brownie Ice Cream Cake
Ingredients
Chocolate Fudge Topping:
To see the brands I use, click each ingredient above or visit my Amazon shop.
Instructions
Brownie:
Using a food processor or blender, grind the pecans into course meal and place in a bowl.

Remove pits from dates and process into a creamy paste in your processor.

Using a spatula, mix the pecan meal with the almond flour, cacao powder, date paste, vanilla extract and coconut oil.
Vanilla Ice Cream:
Combine the coconut milk, egg, arrowroot powder, honey and salt in a saucepan.

Heat the mixture until it starts to boil, stirring constantly. The mixture will become thicker in consistency.

Split the vanilla bean lengthwise and scrape the seeds. Place the bean and seeds in the mixture and let cool for a few minutes, then refrigerate overnight.

Remove the vanilla bean from the mixture and freeze in an ice cream maker.

Spread ice cream over the brownie and freeze for a couple of hours before serving. Remove the cake from the springform pan and top it with Chocolate Fudge Topping and chopped pecans.
Notes
I used two pans for this recipe and it serves approximately 6-8 people.
Nutrition facts calculated without the chocolate fudge topping.
Nutrition per serving
Calories:
164.2
kcal
Protein:
3.3
g
Fat:
8.3
g
Saturated Fat:
1.7
g
Sugar:
16.9
g
Fiber:
3
g
Carbohydrates:
23.2
g
Net Carbs:
20.2
g
*This post may contain affiliate links and as an Amazon Associate I earn from qualifying purchases. Please read my disclosure policy for more details.
Made this recipe?
Please leave a review and photo in the comments below.