Incredibly-moist quick bread, filled with chunks of chocolate chips and drizzled with a silky, dark chocolate glaze. (Gluten-free, Grain-free, Low-carb, Paleo)
This chocolare bread has just the right amount of sweetness and is light and fluffy.
It's hard to believe that something so delicious can be made without traditional white flours and contain no gluten or grains. Believe me when I say you will love this recipe!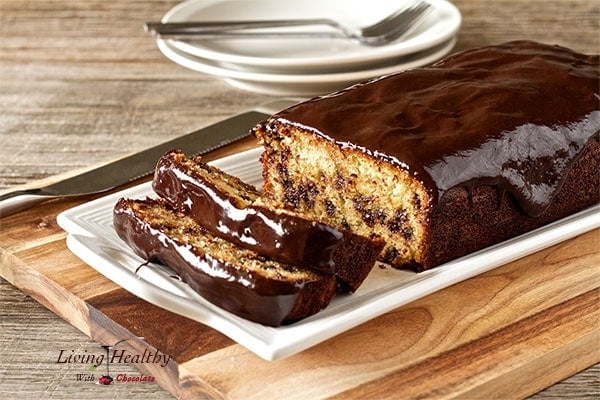 The secret to making this bread have the perfect texture, moisture and flavor is by combining a few of my favorite baking ingredients together: finely ground almond flour, arrowroot powder, coconut milk, honey and butter.
(1) First the almond flour. I use Honeyville Blanched Almond Flour in all my recipes. Other brands of almond flours I have tested have not worked well as a substitute for all purpose flour. They all seem to be ground very fine and have the same density and moisture content, but they are different. This will cause your bread to have a different consistency, potentially making it oily, heavy or even crumbly. If you experiment with other brands and your bread turns out good, please let me know which brand you used so I can also give it a try. I am always looking for good products and your feedback is extremely valuable to me. You could also make your own almond flour and use for baking my recipes! Follow my tutorial here.
(2) Second the arrowroot powder. This is the rootstock, a highly digestible starch obtained from tropical plants and it's an excellent substitute for cornstarch. When combined with almond flour, arrowroot gives this bread that perfect fluffy and airy texture we remember from baking with all purpose flours.
(3) Coconut milk. The coconut milk is what makes my Chocolate Chip Bread so moist. You absolutely need coconut milk for this quick bread recipe and it must be full fat. Substituting it with the light version will make your bread turn out soggy. I use full fat coconut milk from can and my favorite brand is by Thai Kitchen.
(4) Honey. Raw honey is used exclusively to sweeten the batter. Using a honey that has not been heated and is raw will not only have more nutrients, but it also has a thicker consistency that does not run off the spoon easily. This thicker honey adds just the right amount of moisture to this bread.
(5) BUTTER! Butter adds that special buttery taste and texture to this bread. You can use coconut oil if you are lactose intolerant, but if you are not I highly suggest you follow the recipe. Make sure to look for a good organic brand of butter that has been made from pasture-raised cows. Butter from organic grass-fed cows is an extremely good source of fat and loaded with essential nutrients and vitamins.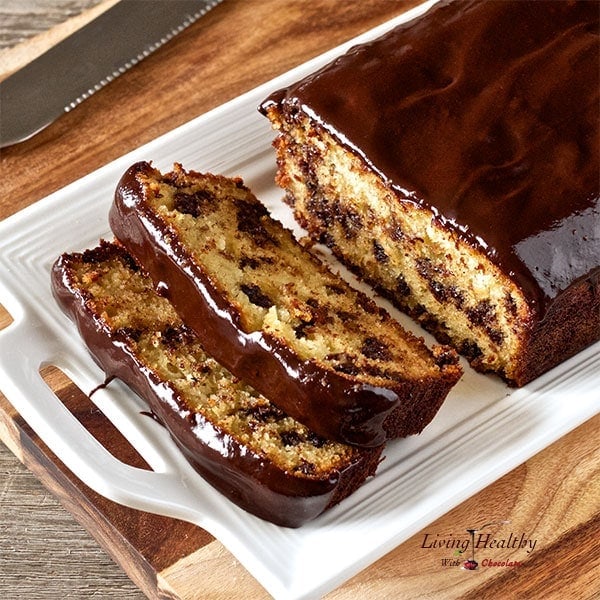 One last tip worth mentioning is that when it's time to combine the wet and the dry ingredients you need to be very careful not to over mix. Over mixing your batter may result in a heavy, oily textured bread. Mix the wet and dry ingredients together until *just* combined.
This quick Chocolate Chip Bread recipe is very easy to make and will be a hit with your family!
I am looking forward to reading your thoughts and comments below.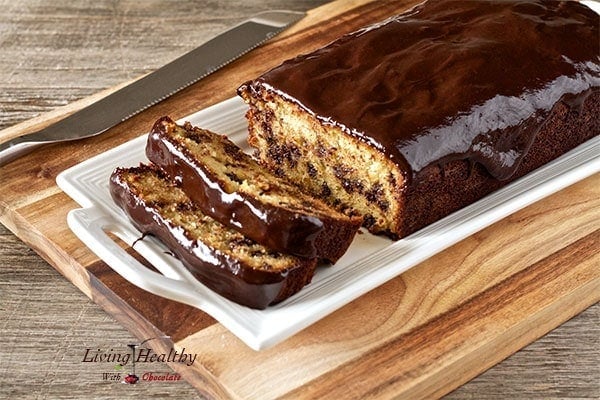 📖 Recipe
SHARE THIS RECIPE
Chocolate Chip Bread (Gluten-free, Grain-free, Low-carb, Paleo)
To see the brands I use, click each ingredient above or visit my Amazon shop.
Instructions
In a large bowl, mix together the almond flour, arrowroot, baking soda and salt using a spatula.

In a separate bowl, whisk together the eggs, butter, coconut milk, honey, apple cider vinegar and vanilla extract.

Add the wet ingredients into the dry ingredients and gently mix with a spatula just until combined. Do not over mix the batter.

Bake at 350°F until a toothpick inserted into the center comes out clean, approximately 45 minutes. Set pan on a wire rack to cool.
Chocolate Glaze:
Slowly melt the chocolate in a bowl over simmering water (double boiler).

Once chocolate has melted, remove it from the heat and stir the coconut milk until everything is combined and smooth.

Pour glaze over the top of the cooled bread and allow the chocolate to set for a few minutes before removing the bread from the pan.
Notes
*To further reduce the carb content in this recipe you can use a stevia-sweetened chocolate like this one.
Store bread in an airtight container in the refrigerator.
Nutrition per serving
Calories:
120
kcal
Protein:
1
g
Fat:
9
g
Saturated Fat:
6
g
Sugar:
5
g
Carbohydrates:
6
g
Net Carbs:
6
g
*This post may contain affiliate links and as an Amazon Associate I earn from qualifying purchases. Please read my disclosure policy for more details.
Made this recipe?
Please leave a review and photo in the comments below.