Free of oats and grains, this healthy Banana Granola recipe is packed with whole, real foods. Filled with texture and a lovely mild banana flavor. (Vegan, Paleo, Gluten-free)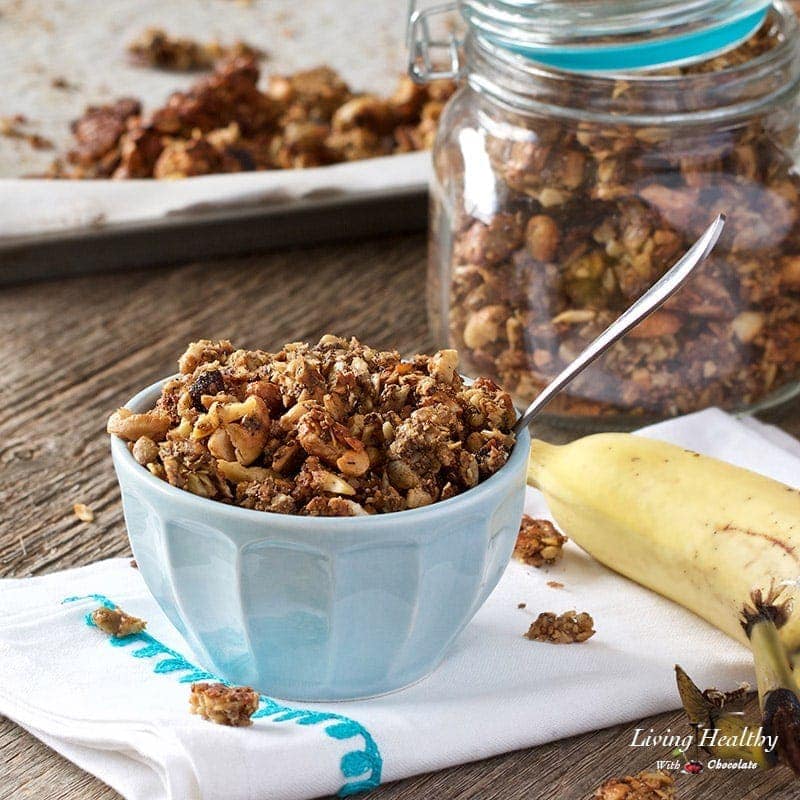 Granola is as easy and fun to make at home as banana muffins, and it's a snack that the whole family enjoys. If you make it yourself, you can control what goes in it and you can make it exactly to your taste.
In today's recipe, I teach you how to make my family's favorite granola. It's made using raw cashews and seeds, and it's coated in a delicious banana puree with hints of vanilla and cinnamon.
The texture is crunchy, crispy, and slightly chewy at the same time. It has a mild banana flavor and it's not too sweet.
Most store bought granolas are way too sweet for me, so I make my granola just sweet enough for my taste. Feel free to adjust the recipe and make it as sweet as you like.
As I mentioned, this granola is free of grains. It's also gluten-free, low in carbs, and free of refined oils and sugars.
My favorite way to enjoy it is sprinkled over my strawberry banana milkshake, mango smoothie or in my traditional Brazilian acai bowl. It's also great sprinkled over ice cream, yogurt, and even salads.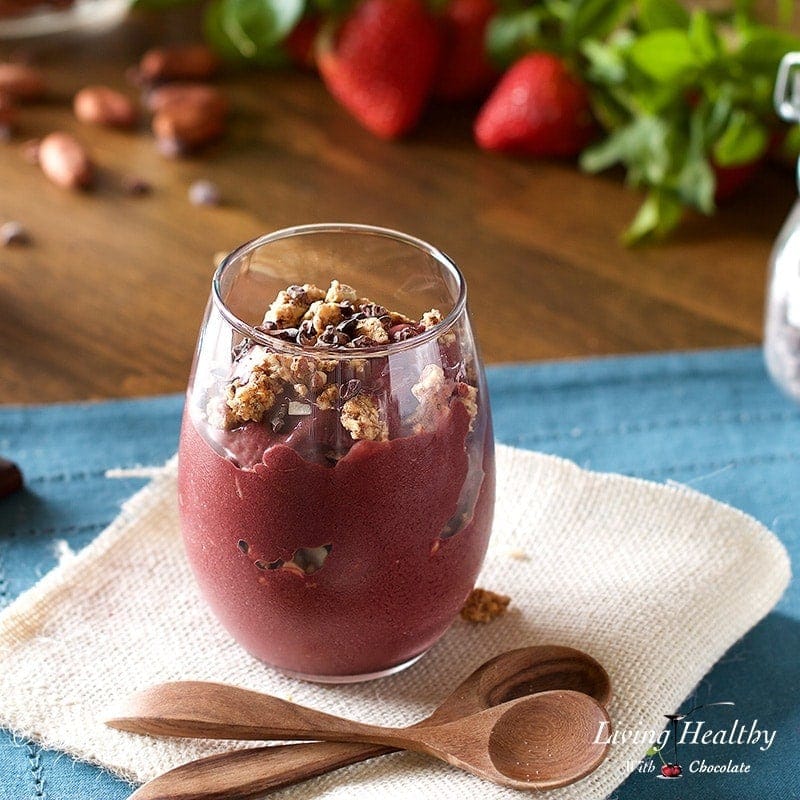 Chop it as small as you like, or leave a few larger clusters like I do. It's a delicious snack!
Want to learn how to make my family's favorite Banana Granola? Here's the instructional video I filmed for you.
Ask me questions, leave your comments and feedback below and be sure to try my chocolate granola as well. I'm looking forward to hearing from you 🙂
🎥 Watch the recipe video
Banana Granola (Oat Free Granola!) (Vegan, Paleo, Gluten-free)
📖 Recipe
SHARE THIS RECIPE
Banana Granola (Oat Free Granola!) (Vegan, Paleo, Gluten-free)
To see the brands I use, click each ingredient above or visit my Amazon shop.
Instructions
Preheat the oven to 350°F. Line a 17x11-inch cookie sheet with parchment paper, making sure the paper coves the edges of the pan also.

In an bowl, mix together the banana puree, coconut oil, vanilla, cinnamon and salt.

Coarsely chop the cashews, pumpkin and sunflower seeds using a knife or a food processor. I use my food processor, and I prefer to chop the cashews and seeds individually.

Place the chopped cashews and seeds in a large bowl, and mix in the shredded coconut, chia seeds, coconut sugar and dates. Then, add the banana mixture and mix until everything is well combined.

Spread the mixture evenly in the prepared pan. Cover with aluminum foil and bake for 20 minutes. Remove the foil and let it bake for another 15 minutes. Keep an eye on it so that it doesn't burn.

Set pan on a cooling rack for 5 minutes, then chop the granola into pieces as large or as little as you prefer.
Notes
To preserve freshness and crunch, store the granola in an airtight container in the fridge or a cool place like your pantry.
P.S. nutrition facts calculated without the Medjool dates.
Nutrition per serving
Calories:
204
kcal
Protein:
5
g
Fat:
16
g
Saturated Fat:
5
g
Sugar:
3
g
Fiber:
3
g
Carbohydrates:
12
g
Net Carbs:
9
g
*This post may contain affiliate links and as an Amazon Associate I earn from qualifying purchases. Please read my disclosure policy for more details.
Made this recipe?
Please leave a review and photo in the comments below.