Wholesome, soft and chewy Chocolate Chip Cookie Dough Granola Bars! The name makes me hungry, and this photo makes me want to eat one more right now as I write this post. These are quick and easy to make and are not loaded preservatives or a large list of ingredients that are hard to pronounce. They are made with dates, sprouted raw almonds and cashews, unsweetened coconut flakes, flaxseed meal and chocolate chips. This is a great snack to take with you to give you a boost of energy before or after a workout.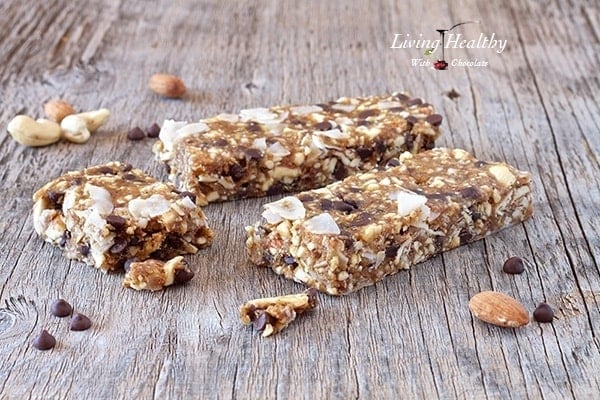 Chocolate Chip Cookie Dough Granola Bars (paleo, gluten, grain free)
Ingredients
½ cup raw cashews
½ cup raw almonds
10 large medjool dates
½ cup coconut flakes, unsweetened
1 teaspoon vanilla extract
3 tablespoons flaxseed meal
⅓ cup chocolate chips
pinch of salt
Instructions
chop the cashews and almonds separately in a food processor and place them in a large bowl
remove pit from dates and process them in the food processor until a creamy paste forms
mix the date paste, chopped nuts, coconut flakes, vanilla, flaxseed meal, chocolate chips and salt with your hands until fully combined
line the bottom and sides of an 8½" x 4½" medium loaf with parchment paper and press mixture evenly across the bottom of the pan
refrigerate for an hour, then cut into bars
Recipe yields approximately 5 2×4-inch bars.