I received many requests to create a nut free version of my Paleo Blueberry Muffin from people who are allergic to nuts. This new Blueberry Muffin recipe is made with coconut flour and is free of any nuts, dairy and gluten. The main ingredients for the muffins are coconut flour, coconut oil, coconut milk and eggs.
The consistency of these muffins is very soft and moist due to the blueberries and the amount of coconut milk I used. You can adjust the sweetness to your liking, but since I haven't eaten much sugar for the past few years, I think 2 tablespoons of honey was just the right amount to make 6 muffins.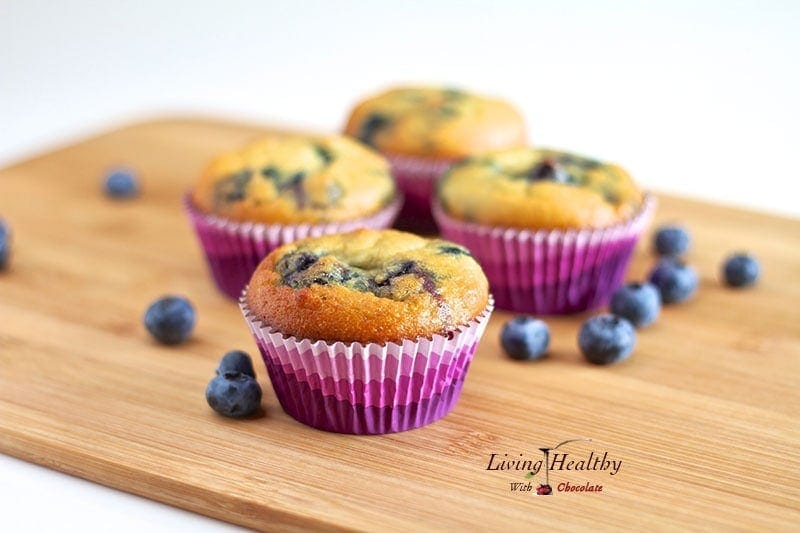 Here is a tip to baking with coconut flour: Do not pack the coconut flour into your measuring cup as you may end up with more than the recipe calls for. Smash any big clumps in the coconut flour first and then fluff the flour with your measuring tool. Fill your measuring cup or spoon and level it off with a knife.
I would love to hear your feedback on this recipe and if you think the ratio of the ingredients need some tweaking. Enjoy!
Recipe update March 24, 2013:  After seeing a lot of comments stating the batter was too thick, I finally found the notebook where I wrote this recipe. The results people were getting after making this didn't make sense to me because these muffins turned out great when I made them. So anyway, I found my notes and there was an error in the amount of coconut flour added in the recipe below. The correct amount is 1/3 cup + 2 tablespoons, not 3 tbsp! Adding one extra tablespoon of coconut flour will for sure make the batter too thick if you do not compensate by adding more liquid. I updated the recipe below.

Blueberry Muffin (Gluten Free, Nut Free, Dairy Free, Low Carb)
Author:
Living Healthy With Chocolate
Ingredients
⅓ cup + 2 tablespoons coconut flour
⅛ teaspoon baking soda
2 tablespoons raw honey
½ cup coconut milk, full fat
2 tablespoons coconut oil, melted
3 eggs
½ teaspoon vanilla extract
¼ cup fresh blueberries
Instructions
using a rubber spatula, mix the coconut flour with the baking soda in a bowl
in a separate bowl, whisk together the honey, coconut milk, coconut oil, eggs, and vanilla extract
add the coconut flour mixture and mix to form a batter
fold in the blueberries
pour batter into paper lined muffin pan cups and bake at 350°F for 30-35 minutes or until tops start to turn golden brown. Wait until they are completely cool before removing from the pan.
Recipe makes 6 blueberry muffins. Store in the refrigerator.