These are the chocolate Whoopie Pie Cookies With Pumpkin Filling recipe that you and your kids will love. They are delicious, soft, moist and fluffy chocolate cookies filled with a sweet pumpkin filling to give these classic cookies a different spin for Halloween. This updated healthy version is easy to make with almond flour and natural sweeteners. (Paleo, gluten--free, grain-free).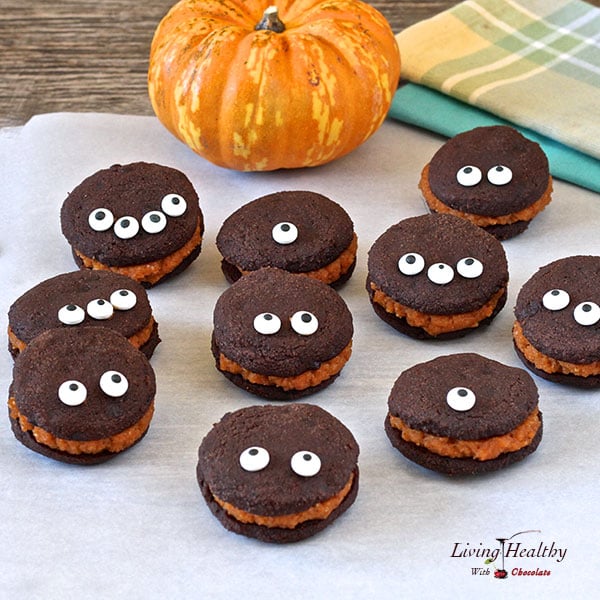 Only a few more days until Halloween! Make this fun and spooky holiday sweet dessert with healthy ingredients.
Whoopie pies are soft and moist, cake-like chocolate cookies, usually filled with a creamy vanilla flavored filling. Since it's Halloween and it's pumpkin season, I decided to give these delicious classic cookies a different spin, and fill them with a sweet pumpkin filling. Top each cookie with candied eyes and they come to life, looking like cute, spooky little cookie monsters. Of course these are very unhealthy candied eyes, and I would never recommend eating them. So you can add them just for fun, and toss them before eating the cookies.
These chocolate cookies have a great soft, moist and fluffy texture, and the recipe was inspired by my Chocolate Cake recipe. When combined with the pumping filling, these whoopie pies burst with delicious flavors, and are the perfect sweet treat to celebrate Halloween with.
The pumping filling is made mostly of organic pumpkin puree and coconut butter, spiced with cinnamon, and lightly sweetened with raw honey. The pumpkin flavor is very mild, but they add a fun Halloween color to these cookies without the addition of unhealthy food dyes. Kids will love these, and won't even notice that pumpkin was added to this recipe. Happy healthy Halloween!
As always this recipe is also Paleo friendly. These whoopie pies are gluten, grain, dairy, soy and refined sugar FREE. Enjoy.
📖 Recipe
SHARE THIS RECIPE
Whoopie Pies With Pumpkin Filling (Paleo, GF, DF)
To see the brands I use, click each ingredient above or visit my Amazon shop.
Instructions
Cookies:
Preheat oven to 350°F and line cookie sheet with parchment paper.

Mix together the almond flour, cacao powder, coconut flour, coconut palm sugar, and baking soda.

In a separate bowl, whisk together the coconut oil, coconut milk, egg, vanilla extract, and honey.

Using a rubber spatula, mix wet and dry ingredients together, then fold in chocolate chips. Do not over mix.

Cover dough and freeze for 40 minutes or until easy to handle.

Scoop about 2 teaspoons of dough into the prepared baking sheet (I use this cookie scoop), and using the palm of your hands flatten each cookies, spacing them on the baking sheet about 2-inches apart. If the cookies stick to your hand, use a piece of parchment paper to flatten them.

Bake cookies for 10 minutes, then set baking sheet on a wire rack to cool.
Pumpkin Filling:
Whisk all ingredients for the pumpkin filling together until combined.

To assemble whoopie pies, drop 2 teaspoons of the filling on the flat side of the cookie. Top with another cookie.
Notes
* I make my own coconut butter instead of store bought because it is much cheaper to do it this way. Simply add 2 cups of unsweetened dry shredded coconut to your food processor, and process until creamy and smooth like peanut butter, scrapping the sides of the bowl as needed. If you use store bought coconut butter, you can melted it by placing the jar in a bowl of hot water.
Store in the refrigerated in an airtight container.
Nutrition per serving
Calories:
211.5
kcal
Protein:
4.2
g
Fat:
15.1
g
Saturated Fat:
6.7
g
Sugar:
10.6
g
Fiber:
3.5
g
Carbohydrates:
16.9
g
Net Carbs:
13.4
g
*This post may contain affiliate links and as an Amazon Associate I earn from qualifying purchases. Please read my disclosure policy for more details.
Made this recipe?
Please leave a review and photo in the comments below.