This healthy recipe uses coconut, pineapple, chocolate and macadamia nuts to make an irresistible dessert. The bars are gluten-free, dairy-free and Paleo.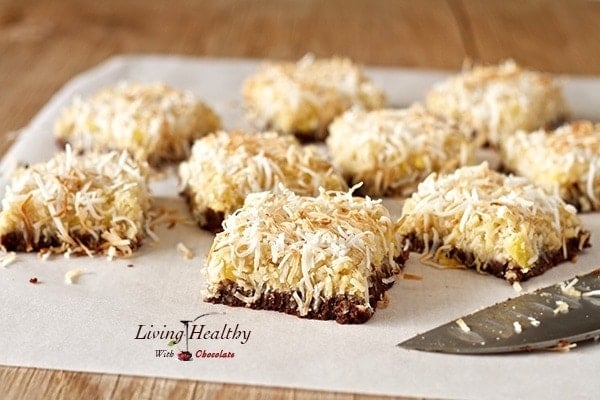 How about the combination of coconut, pineapple, chocolate and macadamia nuts? If you haven't tried the four together you are in for a real treat. In this recipe I tried to mix all of these delicious foods into one irresistible dessert.
This is a very easy to make recipe and the consistency is soft and moist. The chocolate crust is sweetened with a creamy date paste and loaded with macadamia nuts. The top layer is a simple mixture of fresh pineapple and coconut. Depending on how sweet your pineapple is, you can increase the amount of sweetener in the mixture. To me one tablespoon is sweet enough, but feel free to add more if you like your dessert sweeter.
Pineapple and coconut are two of the most abundant fruits here in Hawaii. As you may know, pineapples are cultivated on an agricultural scale here by Dole Plantation. The farms are right next to my house and as I drive to and from work I can smell the sweet scent in the air. It is lovely! The down side of these farms is that they are heavily sprayed with pesticides and it breaks my heart every time I see the giant machinery spraying the crops. There are some growers in the islands that grow pineapple organically, but the price is over $8 for a very small pineapple, which makes it a rare and special treat for me.
Coconut on the other hand is everywhere. Some fruit stands sell the meat for very cheap, about $3.00 for a full bag. The organic store near my house often sells whole coconuts for just $1.50 each! How lucky am I?! Coconut is my favorite everyday snack and there is plenty of it here 🙂 My husband and I often go to the local green waste drop off area by my house to look for coconuts that the tree trimmers just throw away by the dozens.....sometimes we are able to fill multiple containers with fresh coconut water and then we freeze the fresh meat.
Note: this recipe was also added as a guest post to the blog Kate's Healthy Cupboard.
📖 Recipe
SHARE THIS RECIPE
Pineapple Coconut Bars With Chocolate Macadamia Nut Crust (Gluten-free, Paleo)
To see the brands I use, click each ingredient above or visit my Amazon shop.
Instructions
Crust:
In a large bowl, mix the almond flour and cacao powder.

Chop the macadamia nuts in a food processor and add it to the bowl.

Remove pits from dates and process it in the food processor until creamy.

Add the creamed dates, vanilla extract and coconut oil to the dry mixture and using your hands, mix to combine ingredients.

Spread the mixture evenly on the bottom of an 8x8-inch pan lined with parchment paper. Be sure to use one large piece of paper covering the entire pan that overlaps on all four sides.
Filing:
In a large bowl beat the 2 eggs.

Mix in the pineapple, 1 cup of shredded coconut (reserve the remaining ⅓ cup for the top), lime juice, vanilla and honey.

Gently mix in the almond flour and salt with rubber spatula.

Pour mixture over the crust and sprinkle top with remaining shredded coconut.

Bake in a preheated oven at 350°F for approximately 20 minutes or until the top starts to brown and the pineapple/coconut layer is firm.

Set pan on a wire rack and allow it to cool before cutting into squares.
Notes
Store in the refrigerator in an airtight container.
Nutrition per serving
Calories:
206
kcal
Protein:
4
g
Fat:
14
g
Saturated Fat:
9
g
Sugar:
13
g
Fiber:
4
g
Carbohydrates:
18
g
Net Carbs:
14
g
*This post may contain affiliate links and as an Amazon Associate I earn from qualifying purchases. Please read my disclosure policy for more details.
Made this recipe?
Please leave a review and photo in the comments below.