This Chocolate Fudge is rich, creamy, light and has a hint of coffee. It's served frozen for a delicious summer dessert that you can make in under 30 minutes using real dark chocolate and cacao butter.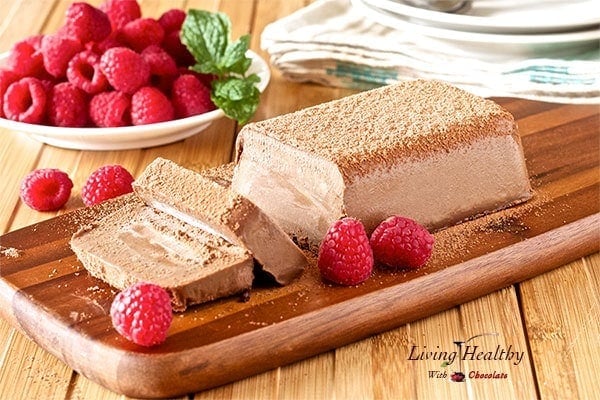 OMGoodness guys! This was a hard one to keep away from my husband.
First bite he took, he was like: ummm... ummm... pause... ummm... OMG! What is this? This is the best thing you've ever made... I think the best dessert I've ever had...
I thought WOW... really?
I guess he is right if you are like him and love a creamy chocolate fudge. He says what takes this fudge over the top is that it is very cold and has a hint of coffee.
Imagine the creamiest coffee, chocolate ice cream fudge possible and you'll begin to understand what he means. He liked it so much that he made a second batch all by himself to serve for dessert to our guests after dinner.
This fudge is rich and light at the same time. The smooth and creamy consistency comes from the cacao, coconut milk and cashews used in this recipe.
This fudge is best served frozen and also tastes great when served with fresh raspberries.
📖 Recipe
SHARE THIS RECIPE
Chocolate Fudge (Vegan, Paleo, GF, DF)
To see the brands I use, click each ingredient above or visit my Amazon shop.
Instructions
Line a mini loaf pan (5¾ x 3-inch) with parchment paper, making sure the paper covers all four sides of the pan and leaving some excess paper over the edges of the pan.

In a food processor, pulse the cashews for a few minutes until creamy like peanut butter. Set aside.

Melt the cacao paste and cacao butter together in a large bowl over simmering water (double boiler). Set aside.

In a medium saucepan, heat the coconut milk, coconut sugar, ground coffee and salt over medium heat just until it starts to bubble.

Add the cashew butter, the coconut milk mixture and vanilla extract to the bowl containing the melted chocolate and stir to combine the ingredients together.

Pour mixture into the prepared loaf pan. Tap pan on the counter gently to remove any bubbles, then set the pan on a wire rack to cool. Cover pan and freeze overnight.

Remove fudge from pan by pulling on the sides of the excess paper and dust top with cacao power. Wait 5 minutes before serving.
Notes
I used cacao paste to make this recipe but you can also use unsweetened 100% dark chocolate.
To measure ⅓ cup, shave the chocolate with a knife and fill the measuring cup. Measure the cacao butter the same way.
Nutrition per serving
Calories:
205.5
kcal
Protein:
3.9
g
Fat:
15.6
g
Saturated Fat:
6.8
g
Sugar:
6.5
g
Fiber:
1.8
g
Carbohydrates:
13.7
g
Net Carbs:
11.9
g
*This post may contain affiliate links and as an Amazon Associate I earn from qualifying purchases. Please read my disclosure policy for more details.
Made this recipe?
Please leave a review and photo in the comments below.