This lychee ice cream is light, creamy, refreshing, and full of lychee flavor. Made with real lychee fruit, not canned! Dairy-free with no refined sugar.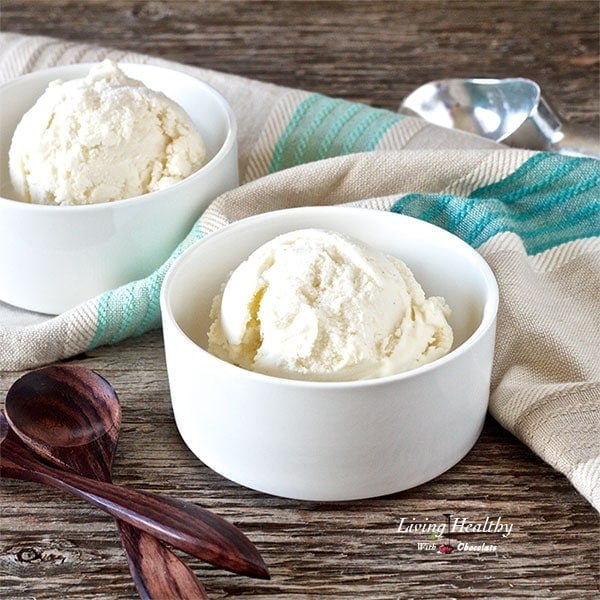 It's summer time here in Hawaii and the Lychee trees are loaded with fruit this season.
If you are not familiar with this fruit, lychee is a sweet, juicy and nutritious fruit native to China.
Lychee contains great amounts of dietary fiber, vitamins, and antioxidants.
The fruit is known for being high in vitamin C and B-complex vitamins such as thiamin, niacin, and folates.
Lychee is also high in minerals such as potassium and copper and makes a great sweet snack this summer.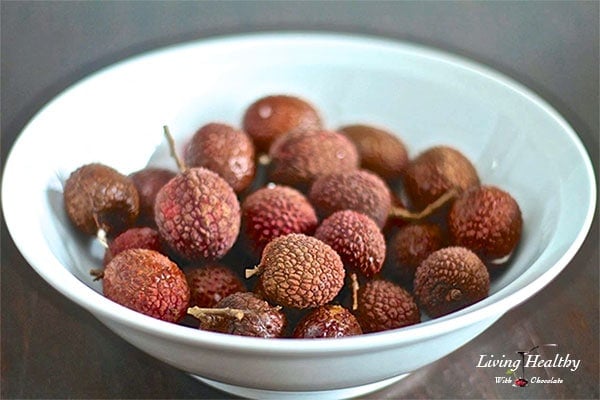 My friend has a lychee tree in his property and he gave me a bag full of these little fruit. I had to do something with them and since the weather has been so warm here, I decided the best thing would be to make some refreshing, cold ice cream.
This ice cream is light and sweet, and full of lychee flavor. The texture is also very creamy and smooth. There are no refined sugars added to this ice cream and it is full of healthy fats and antioxidants.
📖 Recipe
SHARE THIS RECIPE
Lychee Ice Cream
To see the brands I use, click each ingredient above or visit my Amazon shop.
Instructions
In a medium saucepan, heat the lychee for a couple of minutes over medium heat, and mash it gently with a potato masher or fork to break up the fruit.

Add the coconut milk, heavy cream, arrowroot, honey, egg and salt and whisk until there are no lumps from the arrowroot and everything is combined.

Continue to heat the mixture, stirring constantly until it thickens. The mixture should be thick enough just before it boils.

Remove from stove and stir in the vanilla extract.

Allow it to cool for one hour than refrigerate overnight (optional).

Process chilled mixture in your ice cream maker according to manufacture's instructions.
Notes
If you refrigerate overnight, the lychee flavor will seep into the mixture and become more flavorful. You can skip this and just put the mixture in your ice cream maker after it cools for about an hour.
Recipe yields 1.5 quarts.
Store in an airtight container in the freezer.
Nutrition per serving
Calories:
234.4
kcal
Protein:
2.2
g
Fat:
19.1
g
Saturated Fat:
13.3
g
Sugar:
10.9
g
Fiber:
0.4
g
Carbohydrates:
13.8
g
Net Carbs:
13.4
g
*This post may contain affiliate links and as an Amazon Associate I earn from qualifying purchases. Please read my disclosure policy for more details.
Made this recipe?
Please leave a review and photo in the comments below.