Macadamia nut clusters with healthy caramel sauce covered in a homemade dark chocolate... dairy free, gluten free, refined sugar free and paleo...
Ok so I made these last night and I covered each one in my homemade dark chocolate. You could also just melt a high quality dark chocolate or chocolate chips and dip each cluster in it, but as always I prefer to make my own chocolate. It is easy to make the chocolate and I can control the type of sweetener in the chocolate and I know I am getting the benefits of the good quality fats from the cocoa butter.
For the caramel, I wanted to make a healthier version that is not chewy like caramel candy and contains no refined sugars or dairy. So I decided to combine dried dates with coconut milk, almond butter and a little raw honey. The taste of the caramel is very sweet and I might omit the honey next time since the dates are plenty sweet enough for me.
One other important thing to mention is that because the caramel I made has a softer consistency compared to your typical chewy caramel candy, it is hard to roll it into a ball to dip it in the chocolate. Here I dipped each cluster in the melted chocolate, but I noticed that a much better way to make these would be to brush the melted chocolate in candy molds, let it harden then add the macadamia caramel cluster and top it with the remaining chocolate. Regardless of how you cover your clusters with chocolate, they taste so good that I thought this recipe is worth sharing with all of you.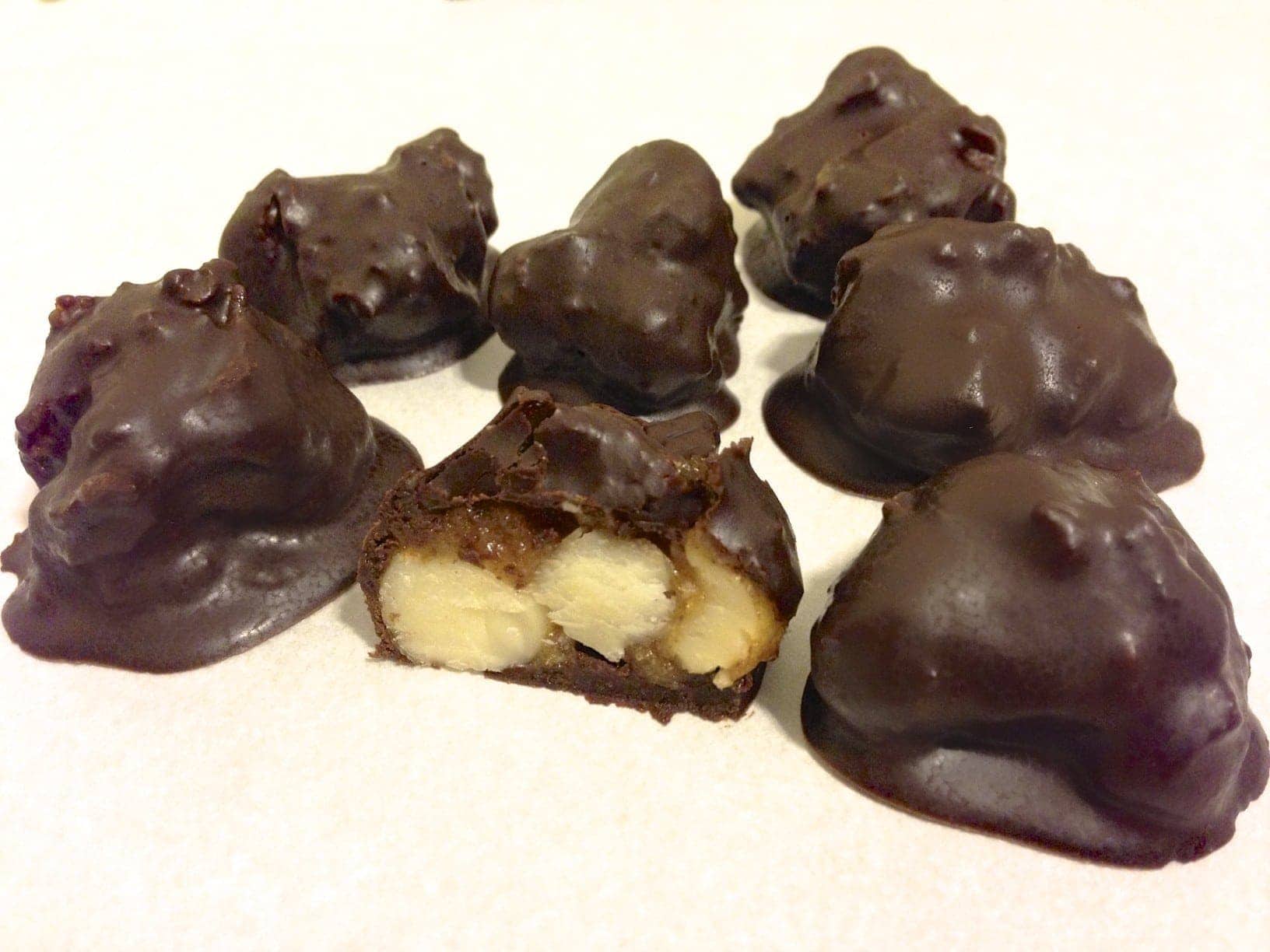 📖 Recipe
SHARE THIS RECIPE
Healthy Macadamia Caramel Clusters
To see the brands I use, click each ingredient above or visit my Amazon shop.
Instructions
Remove the pits from the dates.

In a blender or food processor, process the dates with coconut milk, almond butter and honey until smooth.

Fold in the macadamia nuts.

Melt chocolate over a double boiler or if you decide to make your own chocolate like I did, follow the steps from the recipe here.
Notes
I dipped each of the macadamia nut caramel mixture in the melted chocolate, about ½ tbs of the caramel mixture. A better way to do this would be by brushing the melted chocolate in candy molds, letting it harder first before adding the caramel mixture, then top it with chocolate.
Makes 9 macadamia caramel clusters.
Nutrition per serving
Calories:
137
kcal
Protein:
1.6
g
Fat:
9.2
g
Saturated Fat:
2.8
g
Sugar:
11.5
g
Fiber:
2.3
g
Carbohydrates:
14.4
g
Net Carbs:
12.1
g
*This post may contain affiliate links and as an Amazon Associate I earn from qualifying purchases. Please read my disclosure policy for more details.
Made this recipe?
Please leave a review and photo in the comments below.