These take 5 minutes to prepare! It is beyond my understanding why moms would buy these at the store when they are this easy and fast to make. The store bought fruit snacks are loaded with refined sugars, artificial flavors and food dyes. Here is an example of the ingredients from a well known brand of gummy bears:
HARIBO Gold-Bears Ingredients: Corn Syrup, Sugar, Gelatin, Dextrose, Citric Acid, Corn Starch, Artificial and Natural Flavors, Fractionated Coconut Oil, Carnauba Wax, Beeswax Coating, Artificial Colors Yellow 5, Red 40, Blue 1 – source
Crazy huh? I bet if moms knew the affects these substances have on the body they would never give it to their kids. So here is a great healthy alternative that you and your kids will love. This recipe contains grass-fed, super healthy gelatin. The health benefits of gelatin are many and the ones that stand out the most are the fact that it is loaded with high quality proteins and helps to heal digestive disorders like leaky gut. It is also a great source of collagen for overall joint and bone health. Below you will find the grass fed gelatin I use in my recipes and recommend.
I used a homemade raspberry sauce in this recipe, but you can also substitute the raspberry for any other berry or fruit juice you like. It would be fun to make them with mangos for a yellow color, papayas for orange, blueberries for purple, green melon for green…the options are endless.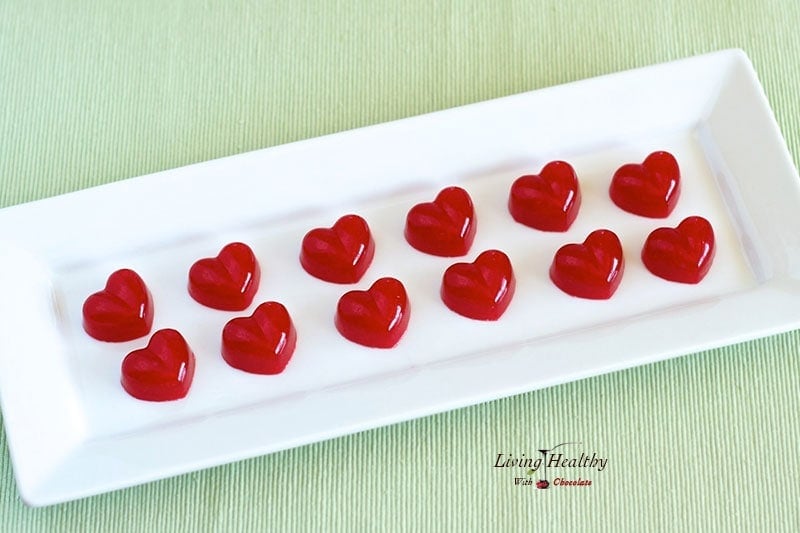 SHARE THIS RECIPE!
Healthy Homemade Fruit Snacks
Ingredients
1/4

cup

lemon juice

2

tablespoon

raspberry sauce

3

tablespoons

grass-fed gelatin powder

1

tablespoon

raw honey
Raspberry Sauce:
1

cup

raspberries

,

frozen or fresh (or any other berry or fruit juice)
Instructions
Raspberry Sauce:
add raspberries to a food processor and pulse until smooth (if you are using frozen raspberries, let them thaw out completely first)

pour berries into a strainer set over a bowl, and gently press the raspberries to extract their juices.

in a saucepan, whisk together 2 tablespoons of the raspberry sauce with lemon juice, gelatin and honey (add more honey if you like it sweeter)

heat the mixture slowly, stirring constantly until the gelatin is melted and all ingredients are well combined

pour mixture into silicon molds and refrigerate until set. You can also line a pan with parchment paper and pour the mixture, then cut into squares after it is set.
Below is the exact heart shaped silicon mold I used to make these fruit snacks. The recipe makes 15 or more depending how much you fill the mold. I filled mine about 3/4 full and it made a few more than 15. You can store your snacks in an airtight container at room temperature or in the fridge.