Baking has never been so much fun to me and I feel like I am getting really good at it. These Banana Cinnamon Cookies are crazy good. They are made with almond flour, ground cinnamon and bananas, then dipped halfway in dark chocolate.To give it a little crunch I added some chopped macadamia nuts. The consistency is soft, chewy, moist and buttery. I added no butter to this recipe, but the combination of flaxseed meal and bananas gives these cookies that buttery texture and flavor. These cookies are super easy and fast to make and the whole process, including baking takes less than 30 minutes!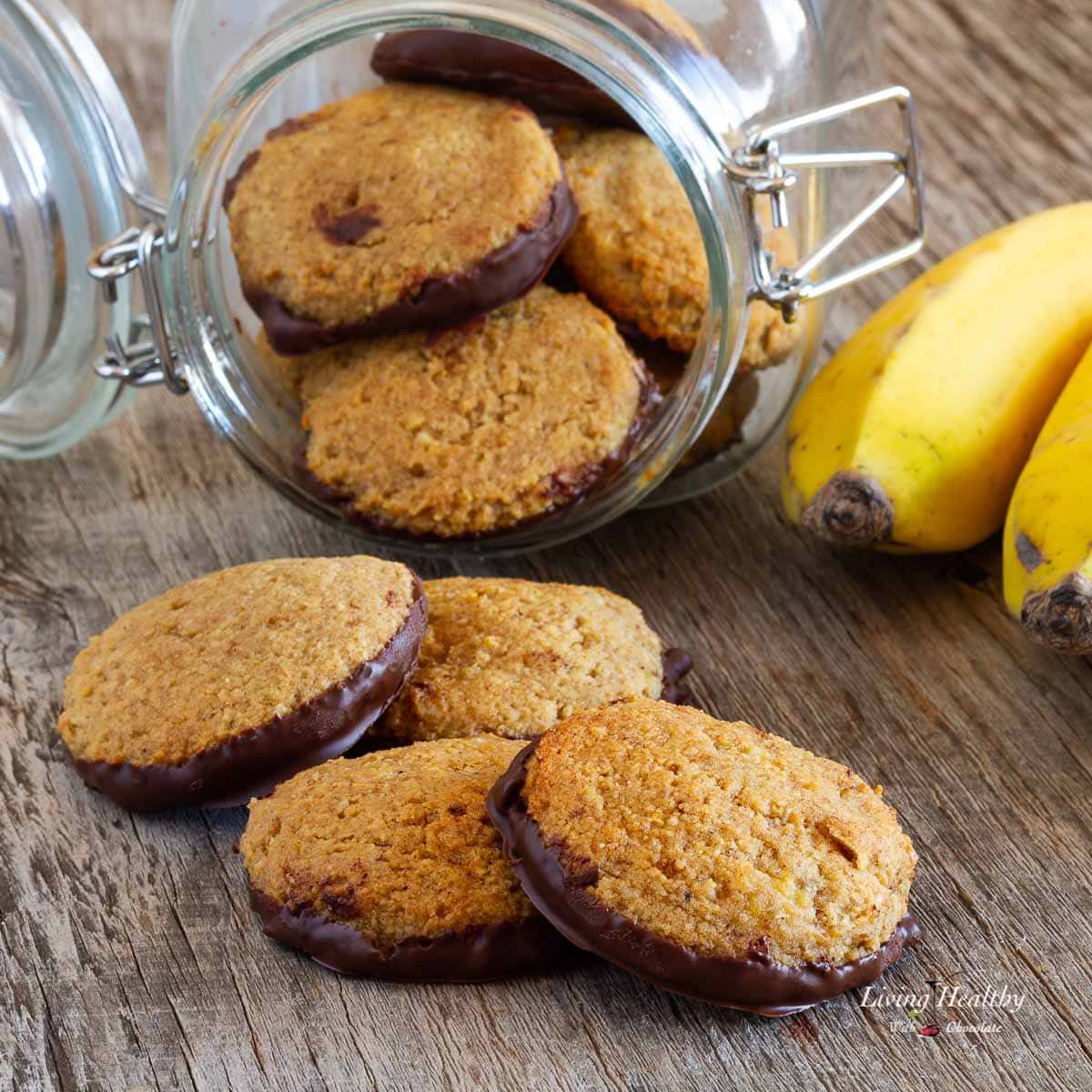 SHARE THIS RECIPE!
Banana Cinnamon Cookies (paleo, gluten, grain, dairy free)
Instructions
in a large bowl, mix together the almond flour, flaxseed meal, cinnamon, coconut sugar, baking soda and salt

add the bananas, coconut oil, vanilla and egg to a food processor and process until the bananas are pureed and all ingredients are combined

add mixture to the bowl with the dry ingredients and gently mix to form a batter

stir in the chopped macadamia nuts and using a medium cookie scoop, scoop the batter onto a cookie sheet lined with parchment paper. Flatten each cookie slightly with the palm of your hand. If the batter sticks to your hands, wet your hands with water.

bake cookies at 350°F for about 10-15 minutes or until the edges and bottom start to brown. You can also insert a toothpick into the center and if the toothpick comes out clean, the cookies are done. Let cookies cool on a wire rack.

melt the chocolate chips in a double boiler

using a fork, dip the bottom of each cookie into the melted chocolate

set the cookies back onto the sheet with parchment paper and refrigerate until chocolate hardens
Nutrition Facts per serving
Calories:
69
kcal
Carbohydrates:
3
g
Fat:
6
g
Saturated Fat:
3
g
Sugar:
1
g
Net Carbs:
3
g
Recipe yields 17 cookies. Keep refrigerated.