Dark Chocolate Orange Bonbons made with coconut condensed milk, sweetened with raw organic honey and dipped in homemade dark chocolate.
These bonbons melt in your mouth and have a creamy consistency with a hit of orange flavor. Very easy to make and impossible to eat just one! But not to worry because these are a very healthy treat, low in carbs, dairy free and sugar free.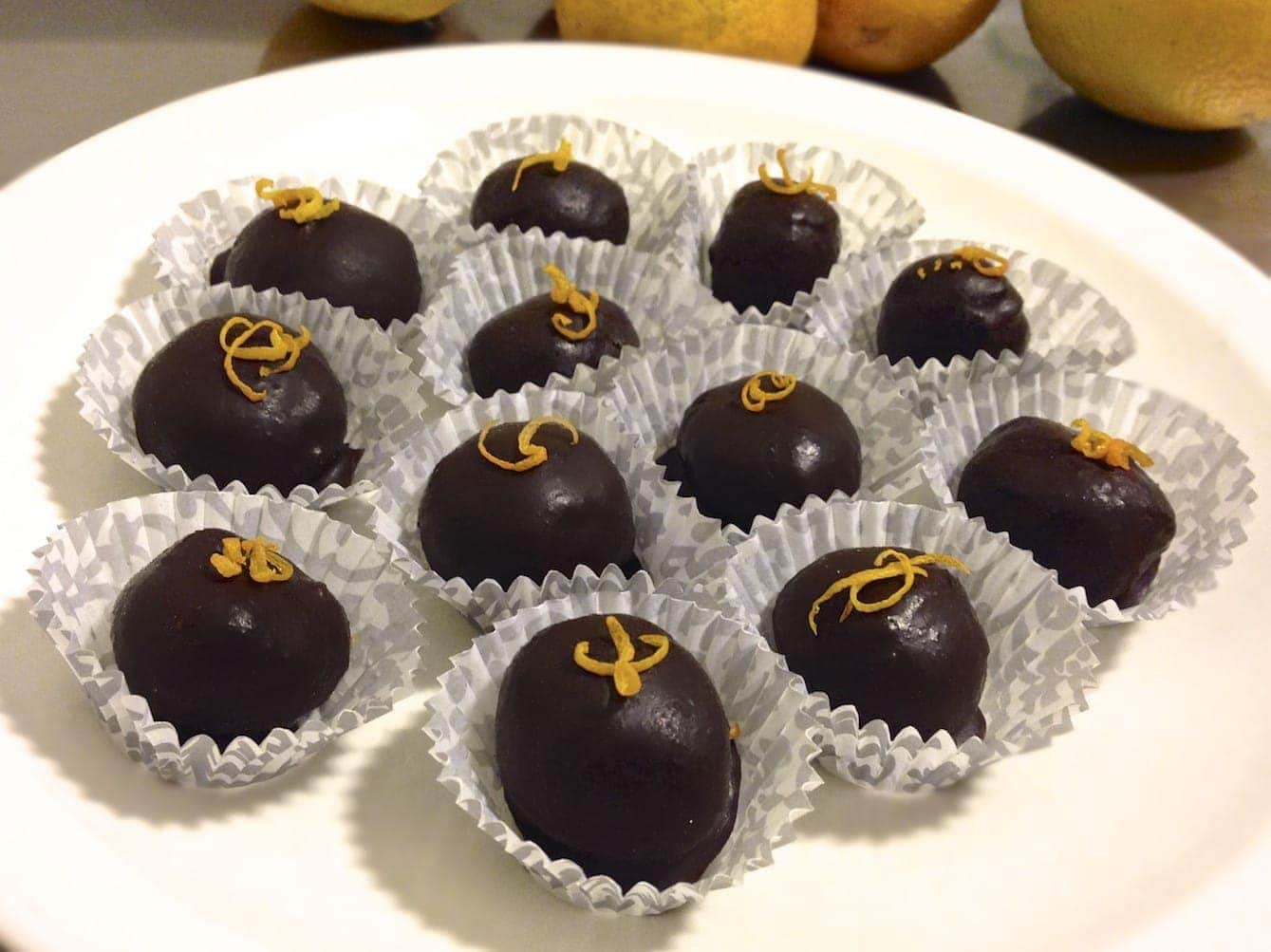 📖 Recipe
SHARE THIS RECIPE
Dark Chocolate Orange Bonbons
To see the brands I use, click each ingredient above or visit my Amazon shop.
Instructions
Mix the coconut milk and the honey in a sauce pan.

Bring milk to a boil, then reduce the heat to low and let it simmer for about 2 hours, stirring occasionally. You will notice the mixture getting thicker and after 2 hours it should be thick enough so that it does not run off the spoon easily, and has a consistency similar to sweetened condensed milk.

Mix in the cacao powder and vanilla extract and cook under medium-heat for about 5 minutes, stirring constantly so it does not burn. When the mixture starts to release off the bottom of the pan and has a very thick consistency remove from the stove.

Add rind of 1 orange and let the mixture cool.

Place it in the fridge for about 2 hours. It is important it is cool before you roll it.

Remove from fridge, line your hands with butter and start rolling the truffles into balls.

Place truffles back in the fridge and go onto making the chocolate shell.
Chocolate Shell:
Melt the cacao butter over a double boiler until it reaches 122°F/50°C.

Add the cacao powder, honey and vanilla and mix until all combined and the mixture reaches 122°F/50°C.

Remove the truffles from the fridge and dip each truffle in the chocolate shell mixture.

Place each truffle on a sheet lined with parchment paper and let them cool and harden at room temperature or in the fridge.
Notes
Store in the fridge in an airtight container.
Nutrition per serving
Calories:
90.5
kcal
Protein:
1.1
g
Fat:
7.7
g
Saturated Fat:
6.2
g
Sugar:
4.7
g
Fiber:
0.8
g
Carbohydrates:
6.9
g
Net Carbs:
6.1
g
*This post may contain affiliate links and as an Amazon Associate I earn from qualifying purchases. Please read my disclosure policy for more details.
Made this recipe?
Please leave a review and photo in the comments below.