These Chocolate Covered Strawberry Cupcakes are moist and made with almond flour. Each muffin has a rich chocolate flavor and a strawberry in the center.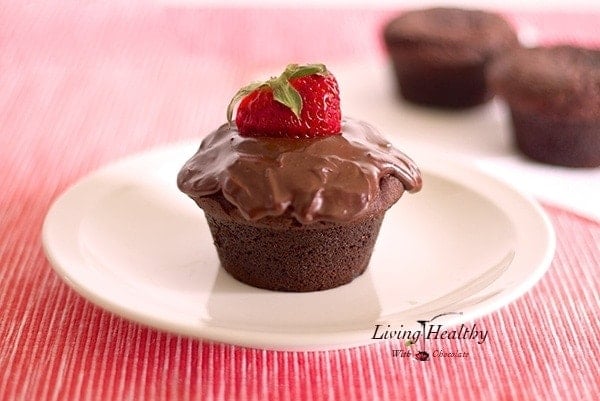 I am so excited to share this guest post I did for PaleOMG here on Living Healthy With Chocolate! Check out Juli Bauer's website and the awesome work she has been doing for the paleo community!
I want to thank Juli for having me as a guest on PaleOMG. As many of my followers know this is only my second guest post and I am so honored to be able to share my recipes with everyone who follows Juli and her blog.
I really wanted this post to be special and after giving it some thought, I came up with this idea to cover strawberries in chocolate, but in a different way. So for this recipe I decided to surround my strawberries with a light, soft, moist and not too sweet dark chocolate cupcake. We all can agree that chocolate complements strawberries very well and it is one of those unique combinations that keeps you wanting more and more.
The sound of cupcakes in the paleo diet sounds very unhealthy, but when you combine ingredients such as coconut oil, coconut milk, ground almonds and some dark chocolate, it becomes the perfect healthy alternative treat for a birthday party or a special occasion like valentines day.
I am certain you will enjoy this recipe and know that following a healthy diet can also be delicious in the presence of dark chocolate and fresh strawberries ♥. Enjoy!
📖 Recipe
SHARE THIS RECIPE
Chocolate Covered Strawberry Cupcakes
To see the brands I use, click each ingredient above or visit my Amazon shop.
Instructions
Preheat the oven to 350°F and line a muffin tin with paper cups. I'm using a silicon muffin pan, but you can use any regular pan and paper liners if you wish.

Melt the chocolate chips in a bowl over simmering water (double boiler) and let it cool for 5 minutes.

Whisk the egg, coconut oil, coconut milk and honey into the melted chocolate until smooth.

In a large bowl, mix the almond flour, cacao powder and baking soda.

Using a rubber spatula gently mix almond flour mixture with melted chocolate mixture to form a batter.


Spoon batter into prepared muffin cups filling each to the top.

Cut the tops off of 6 strawberries and insert one in each cupcake, pointy side down.

Bake until a toothpick inserted into the center comes out clean, approximately 22 minutes. Allow muffins to cool on a wire rack before frosting.
Chocolate Frosting:
Melt the chocolate chips in a double boiler. Once melted remove it from the heat and mix the coconut milk until smooth.

Top each cupcake with the frosting, and to decorate place a fresh strawberries on top.
Notes
Recipe yields 6 cupcakes. Store in an airtight container in the fridge.
Nutrition per serving
Calories:
155
kcal
Protein:
2
g
Fat:
12
g
Saturated Fat:
8
g
Sugar:
6
g
Fiber:
1
g
Carbohydrates:
9
g
Net Carbs:
8
g
*This post may contain affiliate links and as an Amazon Associate I earn from qualifying purchases. Please read my disclosure policy for more details.
Made this recipe?
Please leave a review and photo in the comments below.