Make these healthy Chocolate Chip Waffle Cookies using coconut flour, banana and dark chocolate. The kids will love these bite-size waffle cookies! This recipe is gluten-free, nut-free and Paleo friendly.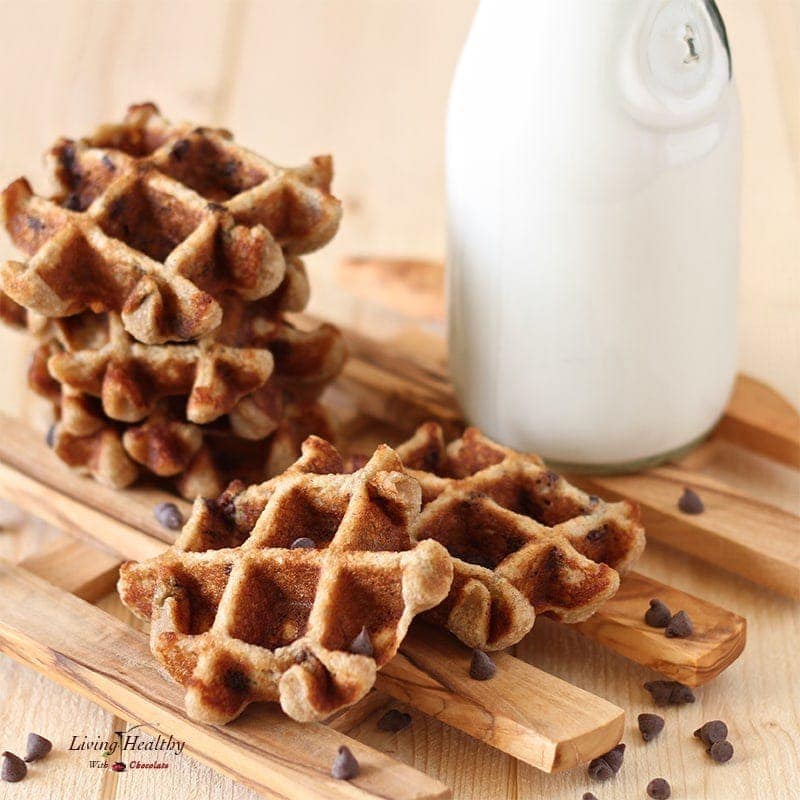 Today I'm turning chocolate chip cookies into bite size waffles cookies.
These little cookies have a pretty unique combination of ingredients which makes them healthy and delicious just like this popular Chocolate Waffles recipe. Who could ever imagine that coconut, bananas and eggs could transform a cookie (waffle) recipe and give them such unique flavor and texture?
These are soft, moist and just sweet enough. Adding bananas, a bit of honey, and a handful of chocolate chips give these cookies the perfect sweetness. The chocolate chip flavor you get with each bite is unreal. When the cookies are served warm, the chocolate melts in your mouth taking the flavors to the next level.
You can make a batch and freeze it. When you are ready to serve them again you can place the frozen cookies back in the waffle iron to heat them up. It's so practical and perfect for a Sunday brunch with the kids.
One last thing I want to mention is that these Chocolate Chip Waffle Cookies are nut-free as wells as gluten, grain, and dairy-free. I have received request from many of you to make more nut-free recipes so I am hard at work creating new nut-free recipes for you.
I just love hearing from you! So if you have any requests for new recipes or if you'd like to help me improve the work I am doing for you, please leave me a comment below. Good or bad, your feedback is super valuable!
If you'd like to skip the waffle iron and make these into cookies in the oven you can! Here's what they look like baked for 23 minutes in a pre-heated oven at 350°F.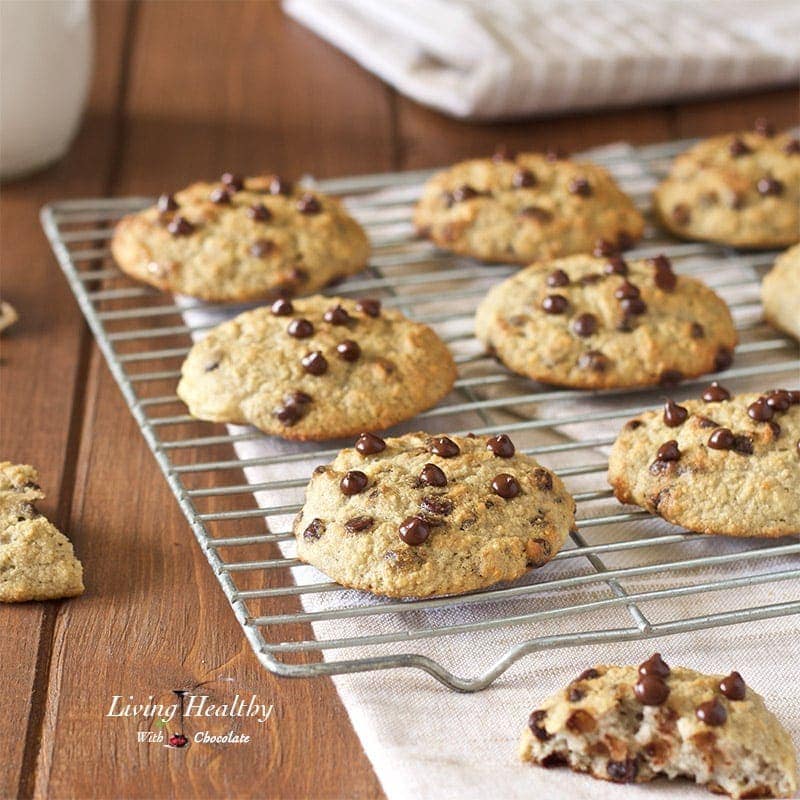 📖 Recipe
SHARE THIS RECIPE
Chocolate Chip Waffle Cookies
To see the brands I use, click each ingredient above or visit my Amazon shop.
Instructions
Add all ingredients to a blender* except for the shredded coconut and chocolate chips and blend for about 20 seconds to combine everything. Scrape the sides of the bowl and blend again if necessary. Using a spoon, mix the shredded coconut and chocolate chips into the batter. Let the batter rest for about 15 minutes before making your cookies.

Heat your waffle iron and set the temperature to low if you have that option. Some waffle irons don't have this option so you can turn it on and off during baking so it's not so hot.

Grease the iron well with coconut oil (do this each time after each cookie). Pour about 1 ½ tablespoons of batter in the iron and let it cook for about 2 minutes or until golden and cooked all the way through.
Notes
* To measure 1 ½ cups of bananas, I slice the bananas and fill the measuring cup to the top with the slices.
* In place of a blender I often use an immersion hand blender to make this recipe because I find it easier to clean. You can use your blender or food processor as well.
* For all my cookies to be the same size, I use a cookie scoop to pour the batter into my waffle iron. I use a medium cookie scoop which holds about 1 ½ tablespoons of batter per cookie.
Nutrition per serving
Calories:
103.6
kcal
Protein:
2
g
Fat:
7
g
Saturated Fat:
5
g
Sugar:
5.2
g
Fiber:
1.7
g
Carbohydrates:
8.9
g
Net Carbs:
7.2
g
*This post may contain affiliate links and as an Amazon Associate I earn from qualifying purchases. Please read my disclosure policy for more details.
Made this recipe?
Please leave a review and photo in the comments below.