You guys know how much I love Honeyville's almond flour. I use it in almost all my recipes and it works great for baking. I have tried many different brands of almond flour and no other brand gives me the same results.
When Honeyville invited me to write a recipe for Christmas to be published as a guest post on their blog, I was so honored and excited. I decided to make something fun and traditional to the holiday season and I came up with the idea for these Chocolate Pinwheel Cookies.
Initially I thought this recipe would be really hard to make because I had to roll the vanilla dough and the chocolate dough together. This is usually easy when your dough has an elastic property to it, but when using almond flour you tend to loose that elasticity. I came up with this recipe and it actually worked great! The secret is to work with the dough very cold, both when rolling it and when cutting the cookies.
Please check out my guest post on Honeyville's website at http://honeyvillefarms.blogspot.com/2013/12/almond-flour-pinwheel-cookies-recipe.html and while you're there, be sure to order a bag of Blanched almond Flour.
Warm and fresh out of the oven 😉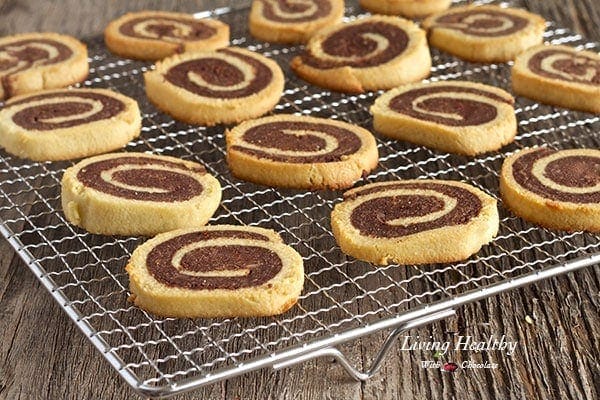 Recipe yields approximately 20 cookies. Store in an airtight container.