This White Chocolate Strawberry Cheesecake has an almond flour crust, a layer of creamy chocolate, topped with a strawberry glaze. The white chocolate is homemade and this recipe is gluten-free, grain-free, and Paleo friendly.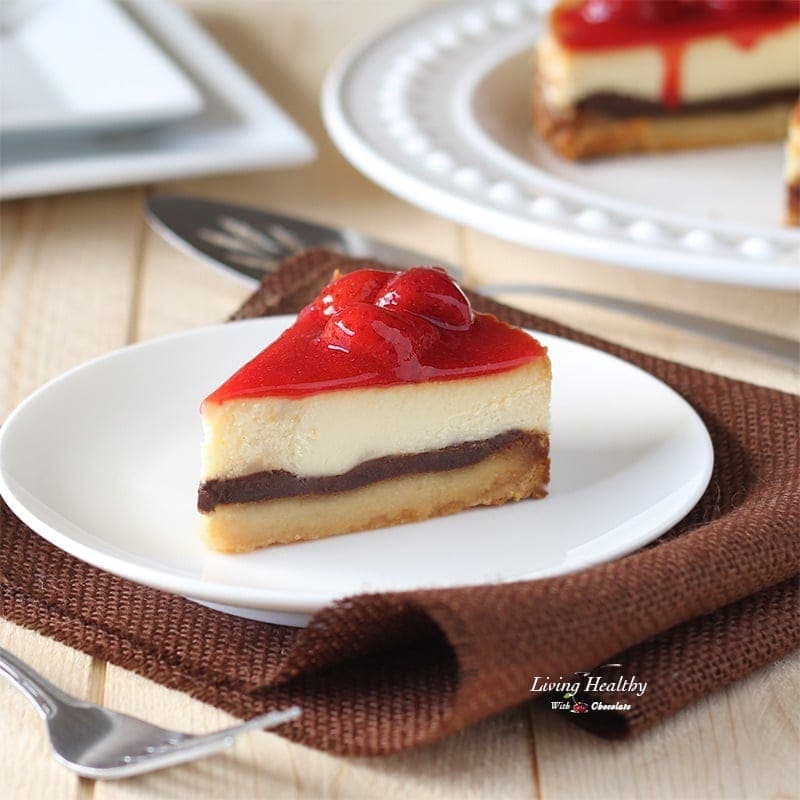 If you'd had asked me which are my top two favorite desserts, my answer to you would be with no doubt, cheesecake and chocolate chip cookies. For chocolate chip cookies, this recipe is my all time favorite. And for cheesecake, I love all cheesecakes, but today's recipe is special and has become a family tradition, frequently made in my house and loved by all my friends.
This is not the traditional cheesecake you may know. Although it tastes just like any classic cheesecake, this recipe uses pretty special and healthy ingredients that adds to the flavor, texture and nutritional value.
First the crust. This cheesecake is made with a very simple and delicious almond crust. Ground up almonds are combined with the incredibly healthy coconut oil, and lightly sweetened with raw honey.
Topping the crust is a layer of creamy, smooth dark chocolate. This layer is optional, but highly recommended since it brings out the flavor of the strawberries, the crust, and the cheesecake filling. It kind of takes this cheesecake to the next level 😉
For the filling, pure cacao butter is added to the mixture to create a sensational white chocolate flavor and a silky smooth texture. For those of you who don't have access to cacao butter, using white chocolate is another option, but if you can use pure cacao butter instead, I highly recommend you do. This is my favorite brand that I use in all of my recipes.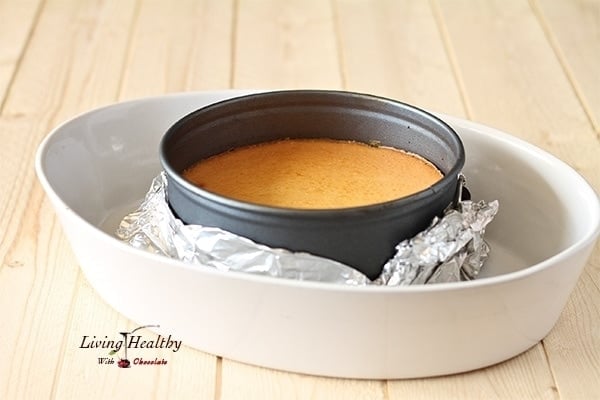 This cheesecake is the real deal and it's made with cream cheese like most other traditional cheesecake recipes. Although most of my recipes are dairy-free, I sometimes also use dairy since my family and a lot of my readers have no problem digesting it. However, the dairy products I use always come from grass-fed animals and never from conventionally raised cows.
Finally, this cheesecake is topped with a homemade strawberry sauce that not only taste delicious, it gives your cake a beautiful, mouthwatering look.
All ingredients aside, this cheesecake is absolutely amazing and I know you'll love it too.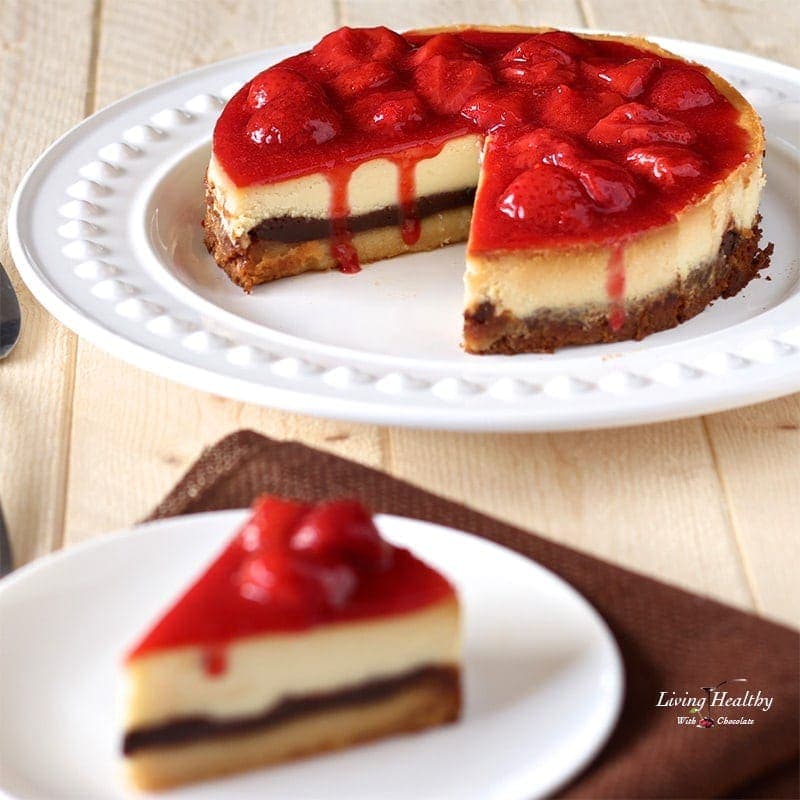 One question I have for all of you, is whether or not you can eat dairy? Also, do you want me to share more recipes containing dairy products? Please let me know in the comments below.
Please share your photo and feedback in the comments below when you make my recipes! And you if share your photo in any of the social media sites, please hashtag #livinghealthywithchocolate so I can find your photo.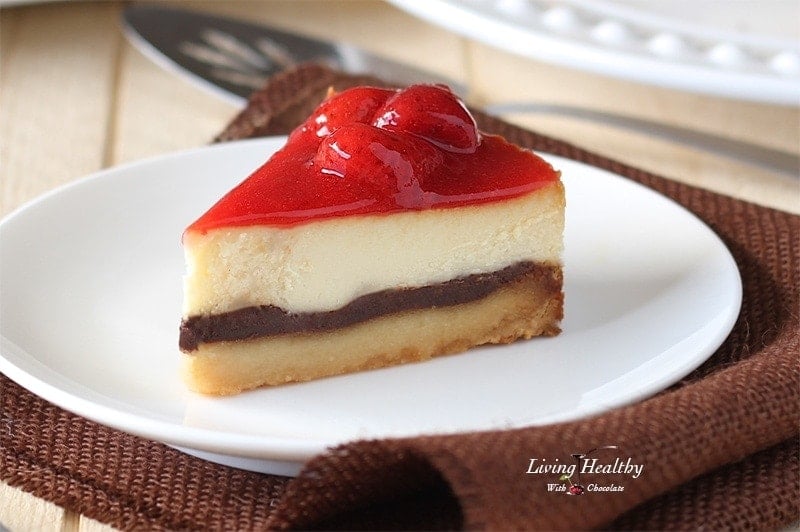 📖 Recipe
SHARE THIS RECIPE
White Chocolate Strawberry Cheesecake
Ingredients
Strawberries topping:
1

cup

frozen strawberries

,

thawed

1

teaspoon

honey

½

teaspoon

lime juice

⅛

teaspoon

arrowroot powder
To see the brands I use, click each ingredient above or visit my Amazon shop.
Instructions
Crust:
Preheat the oven to 350°F. Grease the bottom and sides of round

7-inch springform pan

with coconut oil. Cut a piece of parchment paper and place it on the bottom of the pan.

In a large bowl, mix all the crust ingredients together with your hands, then press the dough evenly on bottom of the prepared pan.

Bake the crust for 11 minutes or until the edges and top start to turn brown. Set the pan on a wire rack to cool. Keep the oven on and lower the temperature to 325°F.
Filling:
Melt the cacao butter slowly in a bowl over simmering water (double boiler). Once melted, set the bowl aside to cool.

In a separate bowl, melt the chocolate chips in a double boiler. After melted, stir in the coconut milk until combined and spread it evenly over the cooled crust. Refrigerate for 10 to 15 minutes.

Add the cream cheese, yogurt, honey, vanilla, and salt to a large bowl and mix with a whisk until smooth and combined. Whisk in the egg, then stir the melted cacao butter into the mixture.

Pour cream cheese mixture over the chilled crust, and tap the pan on the counter gently a few times to get rid of bubbles.

Wrap cheesecake pan halfway with aluminum foil and set it in the center of a large roasting pan (see photo below). Fill the roasting pan halfway with warm water and bake at 325°F until the top of the cheesecake begins to brown but center still moves slightly when pan is gently shaken, about 1 hour 20 minutes. Turn the oven off. Leave cake in the oven for 30 minutes with the door slightly opened.

Allow cake to cool on a wire rack, then chill in the refrigerator uncovered overnight.
Strawberries topping:
Place ½ cup of strawberries in a fine mesh strainer, and set the strainer over a medium saucepan. Using a fork, mash the strawberries to strain the juice into the saucepan.

Slice the remaining ½ cup of strawberries in half, then add them to the saucepan with the strawberry juice.

Mix in the honey and lime juice, and heat the mixture over medium heat, and when it begins to simmer, stir in the arrowroot. Stir mixture frequently just until it starts to boil. Remove from stove and let it cool for 10 minutes.

Chill the sauce for 5 minutes in the fridge then spread it over your cooled cheesecake.
Notes
Ensure all ingredients for the crust and the filling are at room temperature before using.
*To measure ⅓ cup of cacao butter, chop it into small pieces then fill the measuring cup. ⅓ cup of cacao butter should yield 32 grams by weight.
Store any leftovers in the fridge. This cheesecake also freezes well and you can make it ahead of time. Cover the pan, freeze it, and then thaw it overnight before serving.
This cheesecake is easy to make and it does take a little time, but you will not be disappointed!
Nutrition per serving
Calories:
466.5
kcal
Protein:
7.5
g
Fat:
39.4
g
Saturated Fat:
20.7
g
Sugar:
19.3
g
Fiber:
2.8
g
Carbohydrates:
25.1
g
Net Carbs:
22.3
g
*This post may contain affiliate links and as an Amazon Associate I earn from qualifying purchases. Please read my disclosure policy for more details.
Made this recipe?
Please leave a review and photo in the comments below.