According to my husband this was the best chocolate he has ever had. Wow, what a compliment! I have to agree with him as I could not speak until I had fully finished eating my cup.  Sounds funny, but these macadamia nut butter cups are one of those foods that make you speechless until its all gone.
Macadamia nuts are one of the healthiest nuts we can eat and  are a rich source of mono-unsaturated fat like oleic acid (18:1) and palmitoleic acids (16:1). They contain polyphenol and a huge amount of fiber. They are an excellent source of minerals such as calcium, iron, magnesium, manganese and zinc as well as rich in many important B-complex vitamins that are vital for metabolic functions. They are also incredibly good for curbing your appetite!
The chocolate in this recipe is homemade and I made it with pure raw cacao butter and organic raw cacao powder and this is why I think the chocolate melts in your mouth and tastes so incredibly good. Alternatively, you can melt a high quality dark chocolate to make your nut butter cups.
Note: the amount of chocolate in the recipe will make 3 macadamia nut butter cups. Adjust the recipe if you want to make additional cups. Also, 1 cup of macadamia nuts makes ½ cup butter, so you will have left over butter to make more than 3 nut butter cups.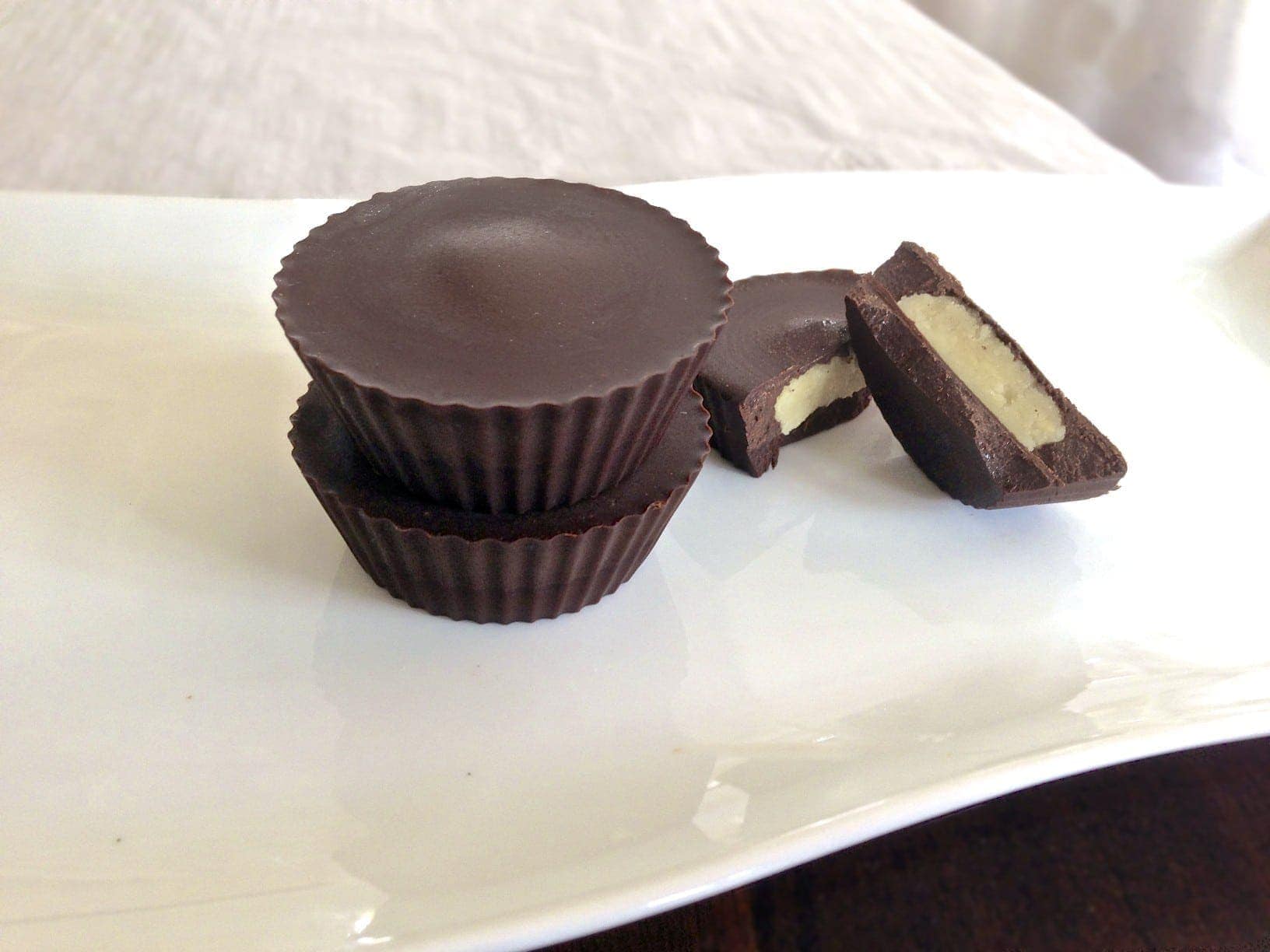 SHARE THIS RECIPE
Paleo Macadamia Nut Butter Cups
To see the brands I use, click each ingredient above or visit my Amazon shop.
Instructions
Macadamia Nut Butter:
Grind the macadamia nuts in a food processor or blender until creamy, but leaving a few very small chunks.

Mix vanilla extract with the nut butter.
Chocolate:
Melt the cacao butter over a double boiler until it reaches 122°F/50°C.

Add the cacao powder and stir to combine.

Add the honey and ground vanilla and mix until all combined and the mixture reaches 122°F/50°C.

Pour a small amount of the chocolate on the bottom of the mold and freeze for about 10 minutes.

Remove cups from freezer and add a full teaspoon of macadamia nut butter. Roll the macadamia nut butter into a ball and flatten it with your hands, then place it on top of the chocolate.

Cover with the remaining chocolate and freeze or refrigerate before serving.
Notes
To make the nut butter cups I used a silicone mold, but you can also use paper molds.
Nutrition per serving
Calories:
574.2
kcal
Protein:
5.9
g
Fat:
56.8
g
Saturated Fat:
18.6
g
Sugar:
13.8
g
Fiber:
7.7
g
Carbohydrates:
24.5
g
Net Carbs:
16.8
g
*This post may contain affiliate links and as an Amazon Associate I earn from qualifying purchases. Please read my disclosure policy for more details.
Made this recipe?
Please leave a review and photo in the comments below.