Learn how to make the best Pao de Queijo (Brazilian Cheese Bread) with my fast and easy method and with a dairy-free and vegan option.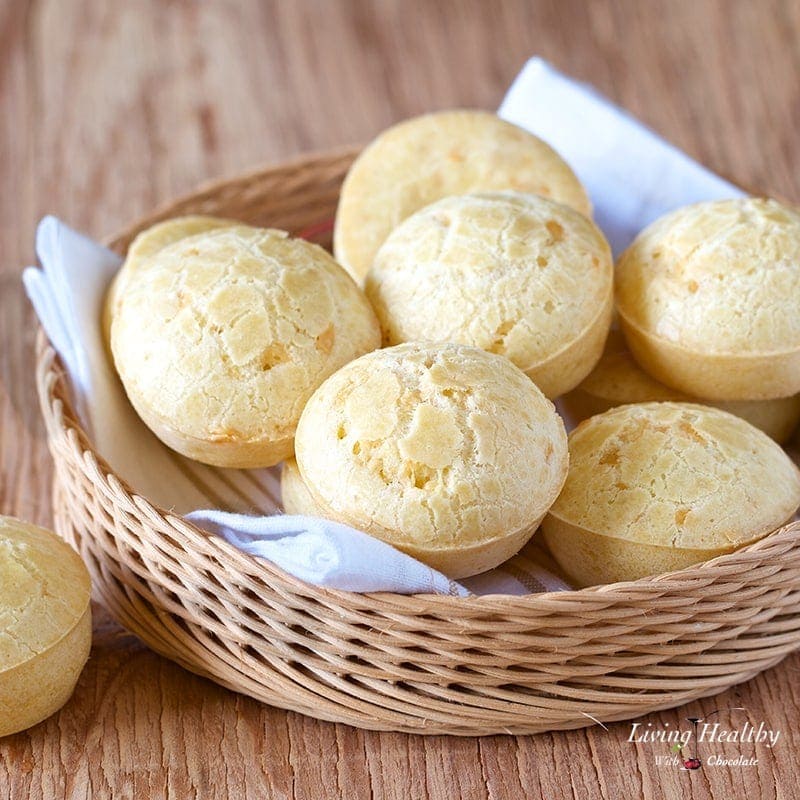 Today's new post is dedicated to my Mom who I haven't seen in the last 8 years. She came to visit me from Brazil, and it's been amazing to be able to make and film this recipe with her. I hope you enjoy the video and make this popular Brazilian treat in your home 🙂
P.S. I added some behind the scenes funny clips to the end of the video so watch until the end (and read more about this recipe below).
As a Brazilian, it was about time I shared with you how to make this delicious treat that's gaining popularity across the globe.
Pao de Quejo is a traditional Brazilian cheese roll. It's sold in every corner in Brazil and it has been part of the Brazilian culinary culture for many generations.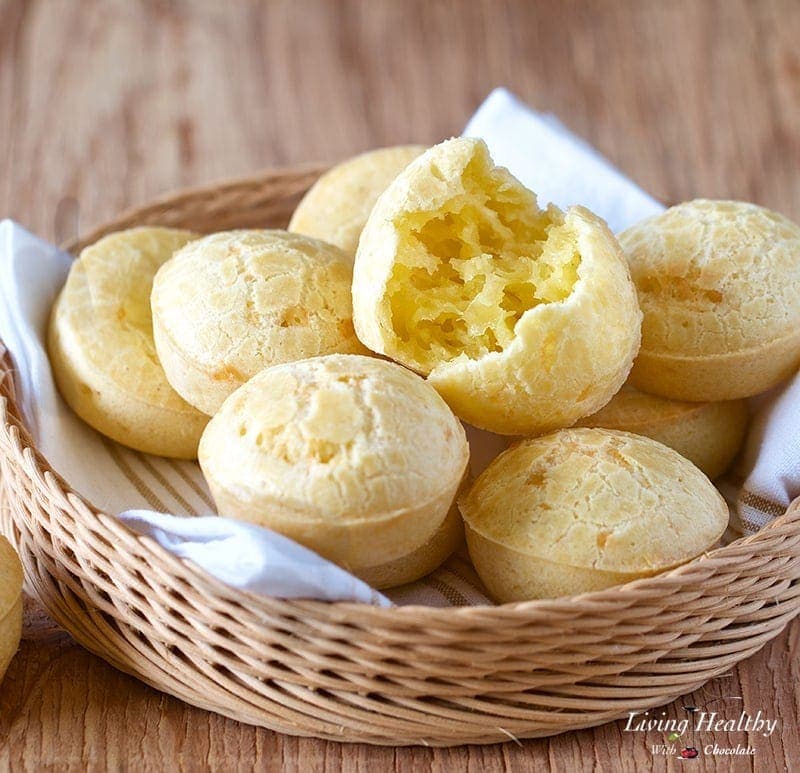 I've been eating Pao de Queijo all my life and I have adapted the original recipe to make it easier and faster to prepare. I call my version the "lazy Pao de Queijo".
Like you, I try to minimize the time I spend in the kitchen cooking, so I found a way to simplify the original recipe.
The traditional way of making Pao de Queijo is by heating the milk and oil, and mixing them with the starch to form a thick dough, similar to making a choux pastry. The dough is then rolled into balls and baked. This takes time and practice. My "lazy Pao de Queijo" is simple to make and we just need to mix all the ingredients in a bowl or blender, and bake in a muffin tin.
Thankfully, I am not lactose intolerant and I can enjoy these cheesy treats. But I have found that you don't need to add any cheese to the dough keeping this recipe dairy-free and still delicious. The tapioca flour/starch added to this recipe gives the rolls an elastic texture and cheesy taste. So if you can't have dairy you can still enjoy these!
In Brazil, sweet or sour Manioc starch (polvilho) is used in place of Tapioca starch. Both of these are processed from the cassava root and both work well to make Pao de Queijo.
Manioc starch is difficult to find in the US and I have only been able to order it from Amazon. Tapioca is readily available in supermarkets and it's a great alternative to Manioc starch.
Personally, I think tapioca gives Pao de Queijo a better taste and texture. Both Manioc or Tapioca starch are gluten-free, so feel free to try this recipe with both to find which is your favorite.
And lastly, Pao de Queijo can be served accompanied with many different fillings. Bacon, shredded chicken, sausage, butter, tomato, or even sweets like jams are delicious. My favorite is to dip each roll in a spicy Mexican salsa. I also like to make egg sandwiches with Pão de Queijo. I have more suggestions in the notes section below so be sure to read them.
Hope you enjoy these delicious Brazilian treats!
🎥 Watch the recipe video
Easy Brazilian Cheese Bread Recipe (Pão de Queijo)
📖 Recipe
SHARE THIS RECIPE
Easy Brazilian Cheese Bread Recipe (Pão de Queijo)
To see the brands I use, click each ingredient above or visit my Amazon shop.
Instructions
Preheat the oven to 400°F.

In a large bowl, add the tapioca, salt, egg, olive oil, coconut milk, and cheese and mix with a spoon to combine everything (you can also blend all ingredients in a blender, then mix in the cheese with a spoon).

Spoon the batter into a standard size or mini muffin tin filling each cup ½ to ¾ full. If you're using a silicon muffin tin you don't need to grease the pan, but if you're using the aluminum or another type of pan, be sure to grease each cup with olive oil, butter, or coconut oil so nothing sticks during baking. You can also use paper liners instead.

Bake for about 20-25 minutes, or until your pao de queijo is lightly golden on top. Let it cool in the pan for 5 minutes then serve while still warm.
Notes
You can make this recipe ahead of time and freeze the batter in the pan. When you're ready to bake, pop the pan in the oven still frozen and bake.
Reheat any left overs in the oven or skillet as needed.
I like to use a sharp, raw cheddar cheese when I make this recipe. My favorite brand is an Irish cheese by Kerrygold. Pepper jack or parmesan cheese are also delicious here, and you can also use a combination of cheeses as well. I like adding a little feta cheese on top to mine!
You can substitute the coconut milk for water or regular milk. Be sure to add just a ⅓ cup instead of ⅔ if you use either water or milk.
Try also substituting some of the olive oil with bacon fat. This gives the crust an extra crunch and a lovely flavor.
Add dried oregano, rosemary, thyme or any other herbs you like to the dough to add even more flavor.
P.S. My Pão de Queijo recipe is gluten-free, grain-free, sugar-free and it can also be dairy-free by omitting the cheese.
*To keep the recipe Vegan, substitute the egg with your favorite egg replacer like flax + water or aquafaba. Keep in mind this will affect the texture of the rolls.
**If you are lactose intolerant you can omit the cheese in this recipe to keep it dairy-free.
Shop Equipment Used
Nutrition per serving
Calories:
126.3
kcal
Protein:
1.4
g
Fat:
9.3
g
Saturated Fat:
3.2
g
Sugar:
0.5
g
Fiber:
0.1
g
Carbohydrates:
9.1
g
Net Carbs:
9
g
*This post may contain affiliate links and as an Amazon Associate I earn from qualifying purchases. Please read my disclosure policy for more details.
Made this recipe?
Please leave a review and photo in the comments below.