Here's my healthy homemade version of Starbuck's famous Mocha Frappuccino® Blended Coffee!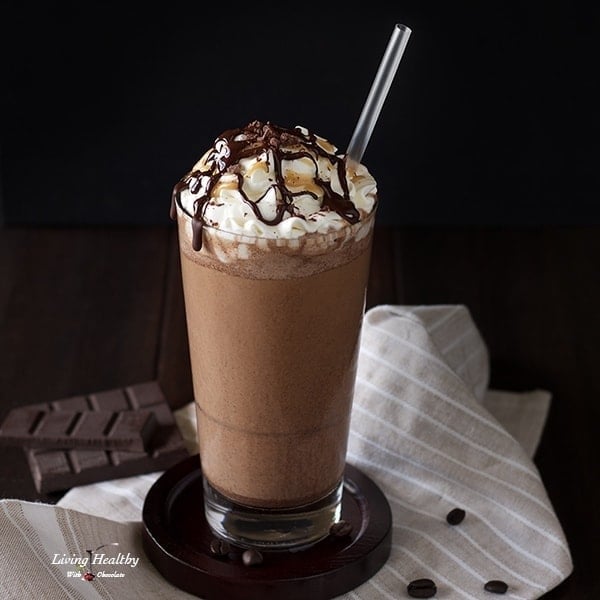 My version is Paleo-friendly and is completely free of those unhealthy syrups and other sweeteners Starbucks uses in their blended ice coffee drinks. Eliminating certain unhealthy ingredients from this drink does not affect the flavor or texture at all!
To me replicating the flavor of the original Starbucks Mocha Frappuccino® was a must and I think I did pretty good with this recipe. The only thing you may notice is that the whipped cream on top is not as sweet as the original.
To make the whipped cream, I used a can of full fat coconut milk to keep this recipe dairy-free. I didn't add any sweetener to it and I just whipped the cream until fluffy (see instructions in the recipe below for how to do this). If you can eat dairy, I also recommend topping your coffee with heavy whipped cream made from grass-fed cows which is another great source of fat and nutrients. However, skipping the whipped cream altogether in this recipe is perfectly fine and won't affect the flavor or texture of your drink.
Starbucks usually adds some kind of milk to their Frappuccinos® to make their drink creamier. In this recipe, I chose to use almond butter and water instead. Combining these two ingredients together is like adding homemade almond milk to your coffee!
So there you have it… A delicious cold drink for these upcoming warm summer days with a strong coffee flavor, and a creamy and icy texture that is guilt-free ☺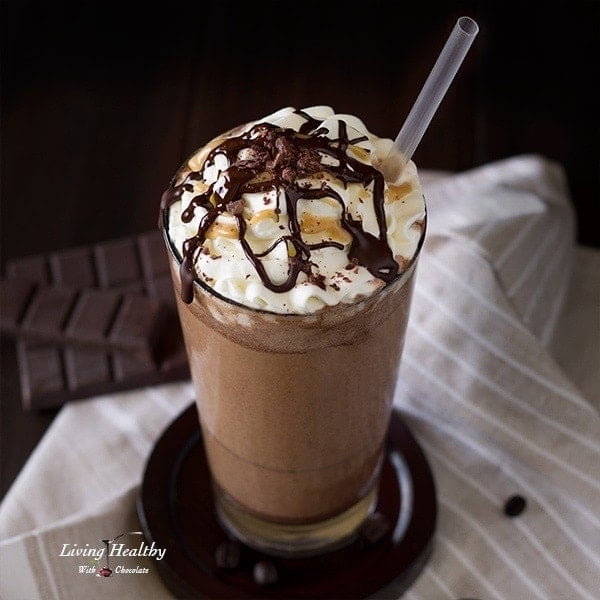 Paleo Mocha Frappuccino Recipe

Ingredients
4 teaspoons expresso powder
3 tablespoons almond butter
2 tablespoons raw cacao powder
2 tablespoons raw honey
⅔ cup water
2 cups ice
Optional:
coconut cream* or heavy cream
dark chocolate
homemade caramel sauce (click for recipe)
Instructions
Add to a blender the expresso powder, almond butter, cacao powder, honey, followed by the water and ice.
Blend for a few seconds until the ice is crushed and everything is combined.
If desired, top with coconut whipped cream and sprinkle with dark chocolate, then drizzle with melted dark chocolate and homemade caramel sauce.
Cook's Notes
Coconut cream is the thick cream that forms in a can of coconut milk when the can is chilled in the fridge overnight. The cream can then be whipped using an electrical hand or stand mixer to make coconut whipped cream. The texture of coconut whipped cream is similar to heavy whipped cream and is a good options for those of you who can't eat dairy. If you prefer to use heavy cream, whip the cream with your mixer until fluffy.

Yields: 2 servings