My recipe for Avocado Chocolate Bread was so popular last week that I decided to make a different type of bread using avocados. This time, Avocado Banana Bread and let me tell you… This bread is simply amazing! The combination of avocado and banana makes this recipe my all time favorite banana bread. The avocado and banana together, gives this bread a light, moist and soft texture that is also not too sweet and goes along perfect with crunchy macadamia nuts.
I personally think the banana flavor is dominant and I can hardly tell avocados are used in this recipe. If someone else had made it and gave me a piece to try, I would have never guessed the avocado was there. This is a good thing for me because I am not a huge fan of the taste of avocados.
We have some really wonderful tasting bananas here is Hawaii called apple bananas. They are smaller than the more common varieties and the flavor is both tangy and sweet. If you can find it in stores, for sure grab a bunch to make this bread!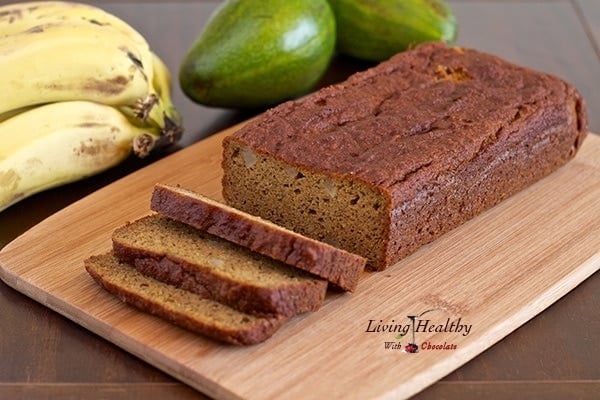 This recipe for Avocado Banana Bread is paleo, low carb,  gluten, grain, dairy and refined sugar free.

Avocado Banana Bread
Author:
Living Healthy With Chocolate

Ingredients
1½ cups blanched almond flour
1½ teaspoons baking soda
½ teaspoon salt
¾ cup avocados, mashed*
¾ cup bananas**
3 tablespoons coconut oil, melted
1 teaspoon vanilla extract
2 tablespoons raw honey (add more if you like it sweeter)
1 large egg, room temperature
⅓ cup chopped macadamia nuts
Instructions
Preheat the oven to 350 degrees. In a large bowl, mix the almond flour, baking soda, and salt.
Pulse the avocado and bananas in a food processor until creamy. Add the coconut oil, vanilla, honey, and egg, and pulse to combine.
Using a rubber spatula gently mix the wet ingredients into the dry ingredients and mix to form a batter, then fold in the macadamia nuts.
Line an 8½ x 4½-inch medium loaf pan with parchment paper and spread the batter across the pan.
Bake until a toothpick inserted into the center comes out clean, about 45 to 50 minutes. To preserve freshness, place inside an airtight container and store in the refrigerator for about 1 week.
Cook's Notes
* I recommend you use Hass avocados to make this recipe because it is not bitter like other types of avocados. Other types of avocados may give a bitter aftertaste to this bread.
** To measure ¾ cup of bananas, chop the banana into small pieces and fill the measuring cup.
Recipes makes a small loaf. Double the recipe to fill the 
8½" x 4½" medium loaf pan
. Store in an airtight container in the fridge.