If you have been following my blog you may have noticed by now that I LOVE coconut and that I include it in my recipes quite often. I think you will agree with me that the combination of coconut and chocolate is just perfect and delicious.  I thought a chocolaty coconut muffin topped with a light and fluffy coconut whipped cream would be a wonderful idea and I am quite pleased with the way this recipe turned out.
To keep these Coconut Cupcakes gluten free, dairy free and Paleo I used almond flour, coconut oil, coconut butter, coconut milk and raw honey. The muffins have a chocolaty and coconuty taste and the consistency is fluffy, light and soft. You may want to adjust the sweetness to your liking, but for me 2 tablespoon of honey was just the right amount.
This recipe makes 6 cupcakes and is best eaten right away if you top it with the coconut whipped cream. The muffins alone can be stored in an air tight container at room temperature. Decorate your cupcakes with sprinkled toasted shredded coconut (toast the shredded coconut in the oven for a few minutes at 300°F and watch it closely so it does not burn).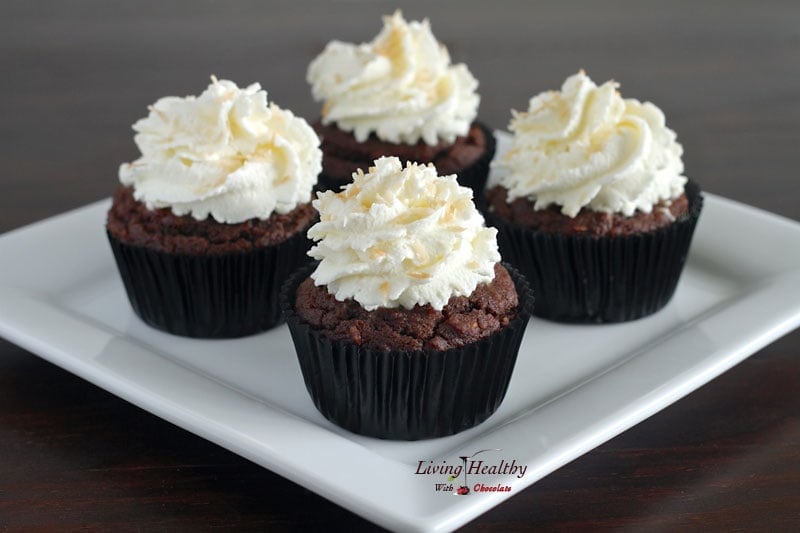 SHARE THIS RECIPE
Coconut Cupcake (Gluten-Free, Paleo)
Ingredients
Coconut Whipped Cream Frosting:
To see the brands I use, click each ingredient above or visit my Amazon shop.
Instructions
In a large bowl, combine the almond flour, baking soda, cacao powder and shredded coconut.

In a separate bowl, whisk together the coconut butter, egg, coconut oil, coconut milk, honey and vanilla, then using a rubber spatula gently mix in the almond flour mixture.

Spoon the batter into the prepared pan and bake for about 20 minutes or until the edges start to turn brown. Cool completely before topping with coconut whipped cream frosting.
Coconut Whipped Cream Frosting:
Place a can of full-fat coconut milk in the fridge overnight. The coconut milk will thicken and separate from the water. Scoop the solid coconut cream that forms on the top of the can into a bowl. Discard the water in the can.

Add the vanilla extract and whip the coconut with a hand mixer until fluffy. Top your muffins with the whipped cream and if you like,

sprinkle toasted coconut on top to decorate.
Nutrition per serving
Calories:
288
kcal
Protein:
6
g
Fat:
24
g
Saturated Fat:
11
g
Sugar:
7
g
Fiber:
3
g
Carbohydrates:
14
g
Net Carbs:
11
g
*This post may contain affiliate links and as an Amazon Associate I earn from qualifying purchases. Please read my disclosure policy for more details.
Made this recipe?
Please leave a review and photo in the comments below.