Find out how to make this delicious Blueberry Cheesecake Ice Cream without cheese or milk. It's easy and fast to make.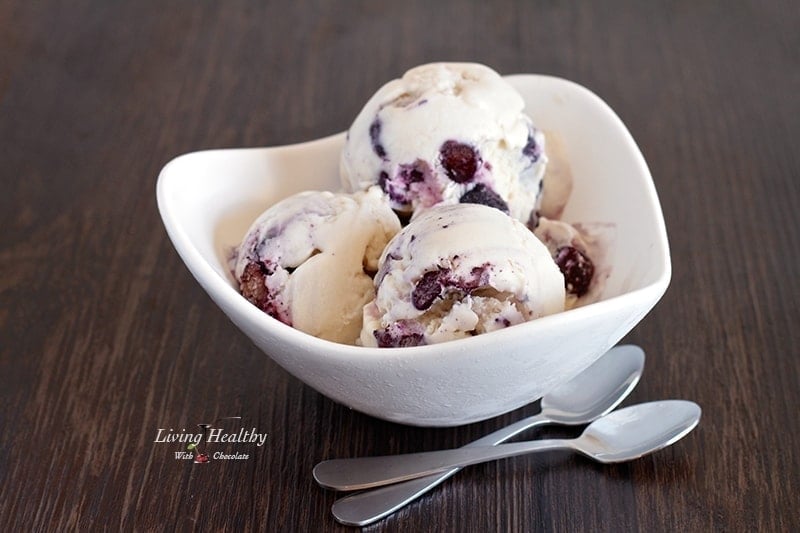 You must be asking how a cheesecake ice cream can be dairy-free. If you ask me, I personally love cream cheese and I do consume dairy that is organic, made from pastured raised cows and  raw if I can find it.
I wanted to make a cheesecake ice cream for all the paleo folks that do not or can not consume dairy and I can achieve this by using cashews. No, it is not the same thing, but it does taste pretty similar to cheesecake when you mix cashews and lemon. You might have seen a lot of recipes for raw blueberry cheesecake pies that the main ingredients are cashews and lemon, so why not make an ice cream version of that?
This ice cream is very creamy, even after you store it in the freezer for a few days. The secret to this is to mix the milk with eggs and most important arrowroot powder. The arrowroot powder prevents ice crystals from forming when you freeze the ice cream. Although, like any other brand of store bought ice cream, you need to let it sit for a few minutes before scooping the ice cream.
SHARE THIS RECIPE
Blueberry Cheesecake Ice Cream (Dairy-free)
To see the brands I use, click each ingredient above or visit my Amazon shop.
Instructions
In a food processor pulse the cashews until creamy like peanut butter.

Add the lemon juice to the cashew butter and pulse to combine.

In a saucepan whisk the arrowroot powder with the coconut milk until dissolved then add the cashew butter, eggs and honey.

Bring mixture to boil slowly over medium heat, stirring frequently. Remove from heat and mix in the vanilla extract.

Let it cool overnight in the fridge and process the chilled mixture in your ice cream maker.

Mash the blueberries slightly and swirl into the ice cream and serve.
Notes
Recipe yields 1.5 quart. Store in an air tight container in the freezer.
Nutrition per serving
Calories:
327.3
kcal
Protein:
5.9
g
Fat:
23.3
g
Saturated Fat:
14.1
g
Sugar:
14.8
g
Fiber:
1.6
g
Carbohydrates:
24.1
g
Net Carbs:
22.5
g
*This post may contain affiliate links and as an Amazon Associate I earn from qualifying purchases. Please read my disclosure policy for more details.
Made this recipe?
Please leave a review and photo in the comments below.