If you ever crave chocolate, make this Healthy Emergency Chocolate Fix recipe which takes just 15 seconds and only 5 ingredients. (Paleo, Vegan, dairy-free)
Note: you can skip adding the water in step 1 and just mix everything and microwave to make your chocolate. This works fine as well but your chocolate will have a grainy texture.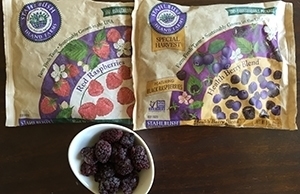 For a final note, I like stocking my freezer with a variety of frozen berries from Oregon Berries. They have a great selection of berries such as raspberries, blackberries, and hard to find Boysenberries, Marionberries and more. All of their frozen berries taste fresh and delicious!
Check them out here!