Soft-baked, chewy, and completely irresistible Two-toned Cookies for all you chocolate and cookie lovers. These are sure to satisfy all of your chocolate and cookies cravings!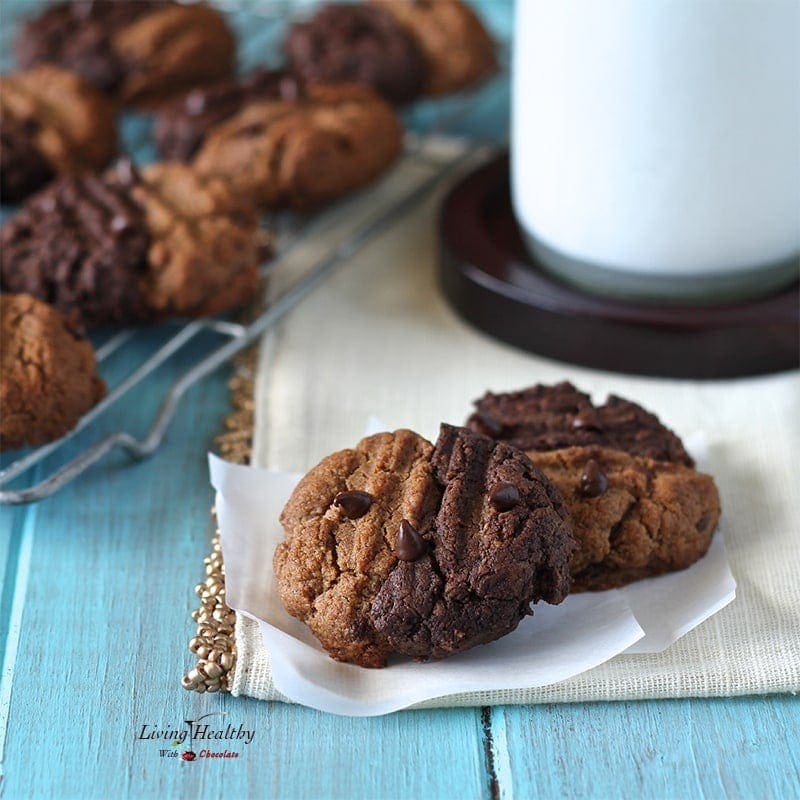 Swirled with a white and dark chocolate dough, filled with sweet chocolate chips, these cookies are totally scrumptious! 😳 ?
Inspired by traditional peanut butter cookies, these Two-toned Cookies are made with almond butter instead. Using almond butter in place of peanut butter gives these cookies that same chewy and soft texture we all love so much. And to make them sweet and healthier, organic coconut palm sugar is used to sweeten them in place of white, refined sugar.
These cookies are delicious and very easy to make. You can use store bought almond butter, or you can make your own at home. I made my own, and here's an instructional video where I show you the process.
Juli Bauer, New York Times bestselling author of The Paleo Kitchen, deserves all the credit for creating this recipe! She created this brand new recipe based on the most popular cookie recipe on her blog (PaleOMG.com), and this recipe is one of over 100 that are included in her brand new cookbook that is about to launch next week!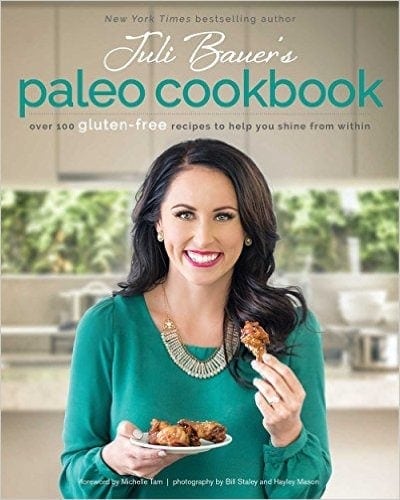 Lucky for me, Juli sent me a copy of her book before the release! I'm honored to be one of the first to try her recipes and be able to share one of them with you today 🙂
Juli Bauer's cookbook is available for pre-order now, and Amazon is offering 44% off the retail price! You can buy a copy of it today, save money, and be one of the first to receive a copy!
× Click here to buy your copy today ×
I had a lot of fun making and photographing Juli's delicious Two-toned Chewy Cookies. Everyone is my house loved them, and the batch I made didn't last long! I know you guys are going to love it too.
Scroll down to read the recipe for these delicious Two-toned Chewy Cookies (gluten-free, grain-free, dairy-free, Paleo).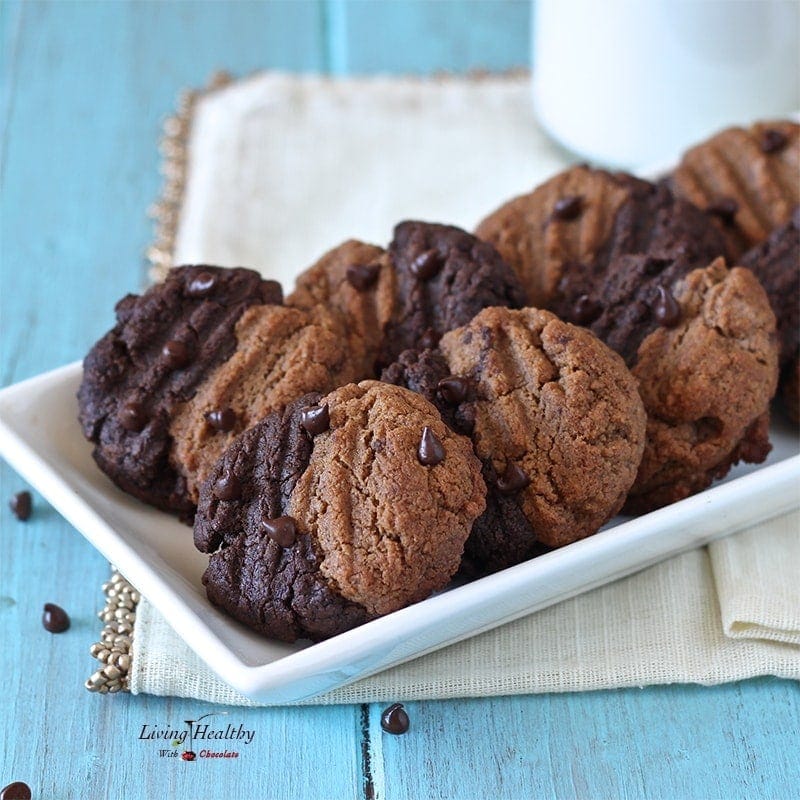 SHARE THIS RECIPE!
Two-toned Chewy Cookies (gluten-free, grain-free, dairy-free, Paleo)
Ingredients
1

cup

thick almond butter

1

cup

coconut sugar

1

large egg

,

whisked

1

teaspoon

baking soda

1

teaspoon

vanilla extract

pinch

of fine sea salt

1/4 to 1/2

cup

dark chocolate chips,

depending how chocolaty you want your cookies

1/4

cup

unsweetened cocoa powder
Instructions
Preheat the oven to 350°F. Line a baking sheet with parchment paper.

In a large bowl, mix together the almond butter and coconut sugar using a large wooden spoon. Add the egg and mix until well combined.

Add the baking soda, vanilla extract, and salt and mix until everything is well combined. Then fold in the chocolate chips.

Form the dough into a ball and divide it it in half. Place half of the dough on a plate. To the remaining dough, add the cocoa powder and mix it in with your hands until completely combined.

Use a

1 1/2-tablespoon cookie scoop

to scoop up some of the chocolate dough and press it into one half of the scoop. Then scoop up some of the vanilla dough down into the scoop so it stays combined once removed, then place the ball of dough on the lined baking sheet. Repeat this process to make 10 cookies, spacing the balls of dough about 1 inch apart.

Use a fork to press down the balls of dough just slightly. There's no need to really flatten them out; just get them into more of a cookie shape than a ball shape.

Bake for 10 minutes, until the cookies are baked through. Do not overcook; they will harden a bit as they cool.

Let cool on the pan for 5 to 10 minutes, then transfer to a cooling rack to cool completely.