You will love this easy recipe for Mango Coconut Sorbet! This sorbet is a refreshing summertime treat that is smooth, light and full of mango flavor. Quick and simple to make because all you need is a blender or food processor to mix the ingredients and then freeze it in your ice cream/sorbet maker (below is the exact one I used). The sorbet is delicious as is and also great accompanied with slices of fresh mango, raspberries and fresh mint leaves.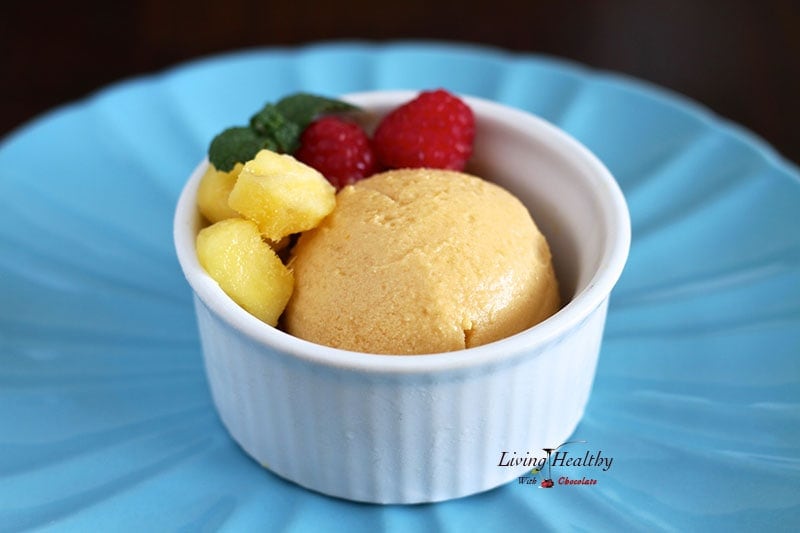 In case you are wondering why I added arrowroot powder in this recipe, it is because the arrowroot helps prevent ice crystals from forming and keeps the sorbet from turning hard as a rock in the freezer. Also, the kind of mango that you use to make this recipe will affect the flavor of the sorbet. I used fresh rapoza mango because they are my favorite and it is season here in Hawaii, but you can use any kind you like, even frozen mangos. ENJOY!
SHARE THIS RECIPE
Summertime Mango Coconut Sorbet Recipe
Ingredients
2

cups

of mango

1

can

,

13.5oz full fat coconut milk

3

tablespoons

lime juice

3

tablespoons

raw coconut palm sugar

1

tablespoon

arrowroot powder
To see the brands I use, click each ingredient above or visit my Amazon shop.
Instructions
puree mango in a food processor

add the coconut milk, lime juice, coconut palm sugar and arrowroot powder and pulse to combine ingredients

freeze the mixture in your ice cream maker and serve
*This post may contain affiliate links and as an Amazon Associate I earn from qualifying purchases. Please read my disclosure policy for more details.
Recipe makes 1 quart. Store in an airtight container in the freezer.