What to do when time is limited and you want a quick, sweet snack?
Sometimes I just want a bite of something sweet but have little time to spend in the kitchen. I love when this happens because I get inspired and I end up mixing a few tasty ingredients together.
This time I really wanted some cashews and chocolate, and I am glad I did because I came up with this recipe and it turned out amazing.
Four simple ingredients are all you need to make this delicious snack!
Melt some dark chocolate, roast some raw cashews with honey, dip them in chocolate and voilà 🙂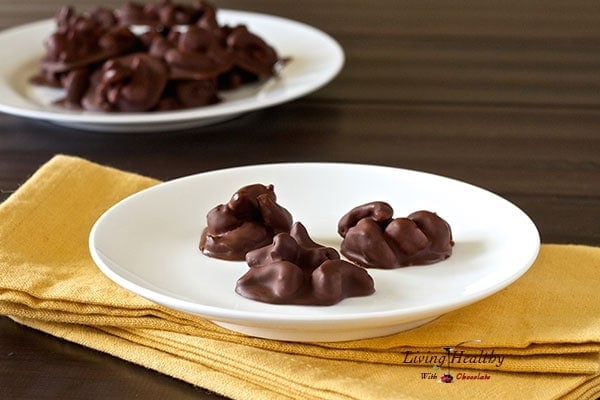 SHARE THIS RECIPE
Paleo Honey Roasted Cashew Drops
To see the brands I use, click each ingredient above or visit my Amazon shop.
Instructions
slowly melt dark chocolate in a bowl over simmering water (double boiler)

stir in 1 tablespoon of coconut oil (reserve remaining 2 teaspoons) with the melted chocolate until smooth

heat honey and remaining 2 teaspoons of coconut oil in a saucepan over medium heat

mix in cashews and stir to coat them with the honey

transfer cashews to a baking sheet lined with parchment paper and roast in the oven at 300°F for 10 minutes or until they start to turn golden brown. Keep a close eye on them so they do not burn.

dip three or four cashew at the time in the melted chocolate using a spoon then place them on a sheet lined with parchment paper.

repeat process for all the cashews then place sheet in the refrigerator until chocolate hardens
*This post may contain affiliate links and as an Amazon Associate I earn from qualifying purchases. Please read my disclosure policy for more details.
Recipe makes about 20 cashew clusters. Keep refrigerated.