Dark Chocolate Crunch Bars • Paleo, grain-free, gluten-free, soy-free, no sugar or sweetener added
Why does something so simple to make have to be filled with so many chemicals and processed ingredients when packaged and sold in stores?
I know there are a lot of brands now making granola and energy bars without all the harmful, processed ingredients and they are readily available in almost all health food stores. But why pay top dollar if you can make your own at home in less than 10 minutes and save money and be 100% sure of what you are consuming?
I suggest you go to the bulk section of the supermarket and get a handful of ingredients to make these delicious, healthy treats. All you'll need is a blender or a food processor to mix the ingredients.
These crunchy, chocolaty energy bars are the perfect snack to take on the road with you and I know your family with love them. I hope you enjoy them and again please feel free to post any comments or feedback you may have.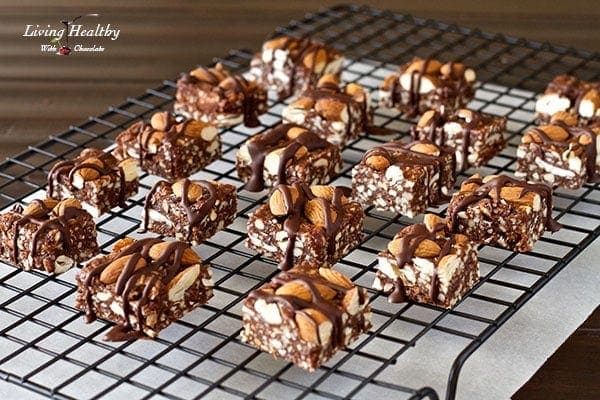 SHARE THIS RECIPE!
Paleo Dark Chocolate Crunch Bars
Instructions
in a food processor or blender pulse the cashews and sunflower seeds until roughly chopped

in a large bowl, combine the chopped cashews and sunflower seeds along with a 1/4 cup of almonds (reserve remaining 1/4 cup), cacao nibs and cacao powder

in a food processor or blender, pulse the dates and apricots until a creamy paste forms

add the dates/apricot paste to the bowl containing the nuts in step 2 above

using your hands, mix all ingredients together until combined. Your mixture should be crumbly, but not too much to where the ingredients won't hold together. If that happens, pulse a few more dates in your food processor until creamy and add to the mixture to achieve the right consistency.

line a 4x8-inch loaf pan with parchment paper and press the mixture onto the bottom of the pan. Depending how thick you want your bars, you may only spread the mixture across one half (1/2) of the pan like I did here.

press the remaining 1/4 cup of almonds firmly onto the top of the mixture

chill in freezer for about 30 minutes

cut into 1-inch squares and drizzle top with melted chocolate
Recipe Notes
*If needed, you can soften your dates and apricots by soaking them in water for an hour before processing them in your blender or food processor. Discard the water before processing.
Recipe yields approximately 20 1-inch squares.