Made with juicy sweet blueberries and topped with a hot lemon and honey glaze, this bread is tender, moist and amazingly delicious. The glaze is infused into the bread just as it comes out of the oven giving it a nice citrus flavor and that soft texture. As with everything I make, this recipe contains no grains or processed ingredients and it is perfect to enjoy at any time of the day.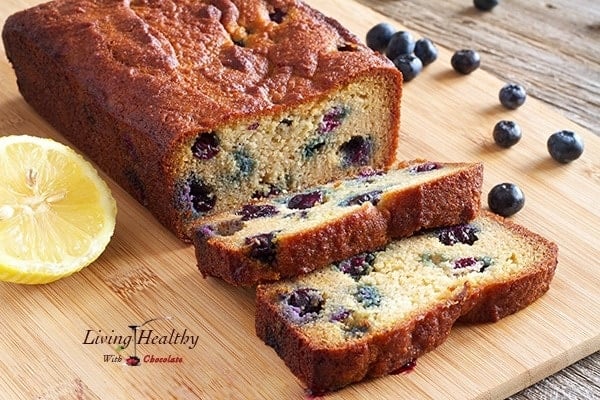 SHARE THIS RECIPE!
Paleo Blueberry Bread With Lemon Glaze
Ingredients
Lemon Glaze:
1/2

tablespoon

fresh lemon juice

1/4

teaspoon

raw honey
Instructions
in a large bowl, mix together the almond flour, baking soda and salt

in a separate bowl whisk the coconut milk with the eggs, honey, vanilla, coconut oil and lemon zest, then add the fresh blueberries

using a rubber spatula, gently mix wet and dry ingredients to form a batter being careful not to over mix or the batter will get oily and dense.

bake at 350°F until a toothpick inserted into the center comes out clean, approximately 40 minutes

poke a few small holes across the top of the bread with a toothpick and brush on the lemon glaze

set the pan over a wire rack to cool.
Lemon Glaze:
whisk together the fresh lemon juice and honey
Serves 10+ people. Keep refrigerated.