I got inspired to make this recipe from my Dark Chocolate Macaroons recipe. This recipe turned out so delicious and is a great snack I can take with me wherever I go. The bars are made with no eggs, no dairy, gluten or grains. The main ingredient is almond butter and coconut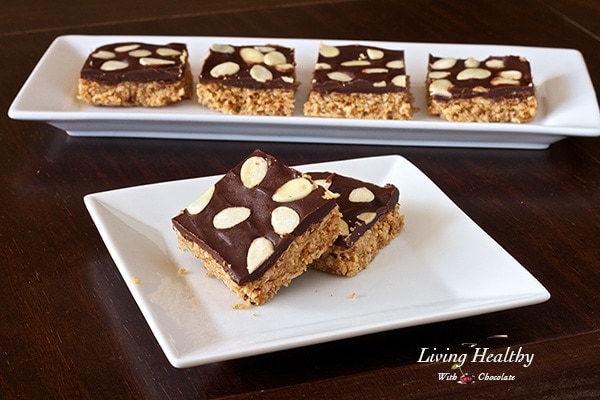 SHARE THIS RECIPE!
Paleo Almond Macaroon Bars
Instructions
in a large bowl, mix the shredded coconut, almond butter, flaxseed meal, coconut oil, honey, vanilla and salt until everything is well combined

bake at 350°F for approximately 10-15 minutes or until the edges and top start to turn brown

set dish on a wire rack and let it cool

melt the chocolate chips in a double boiler and spread over the baked almond bar

top it with sliced almonds and refrigerate until the chocolate hardens. Cut into squares and serve.
Serves 6-10 people. Keep refrigerated.