Have you ever had frozen mousse?
This is the closest thing to ice cream that has a smooth, creamy consistency and can be made without a machine.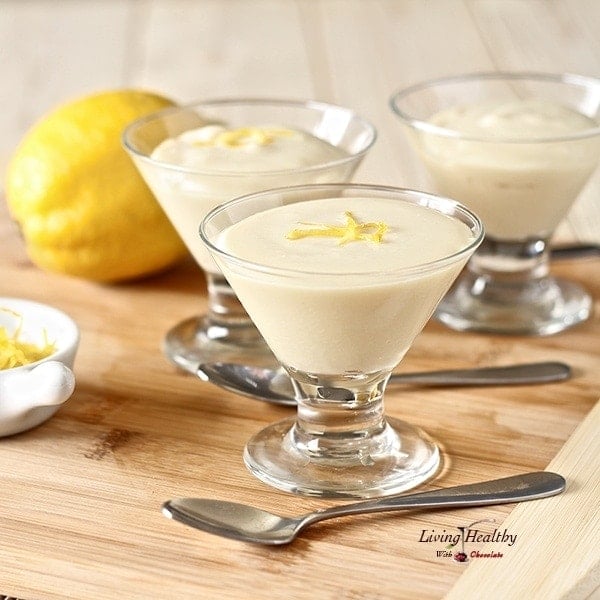 Unlike ice cream, this mousse doesn't turn into ice or become solid after frozen. In fact, no matter how long you freeze this mousse, it stays creamy and is always ready to be served for dessert straight out of the freezer.
What I also love about it is the combination of white chocolate and the citrus from the fresh lemon juice served ice cold. This dessert is refreshing, lemony, and chocolaty.
But this recipe doesn't use any white chocolate, it uses pure, raw cacao butter which is the rich fat extracted from cacao beans. This gives a silky smooth texture to this frozen dessert.
Cacao butter is sold in blocks or chopped into pieces like you see in the picture below. Most health food stores carry it, or you can purchase it online. I order mine from Amazon and this is the one I use. But in case you don't have access to it, you can use your favorite white chocolate bar in this recipe.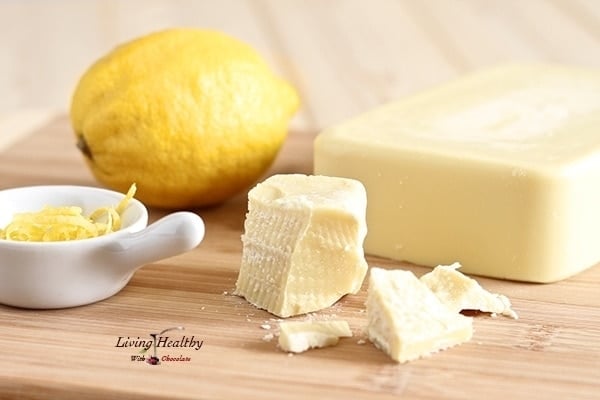 SHARE THIS RECIPE!
Frozen White Chocolate Lemon Mousse (gluten/dairy/sugar-free, Paleo)
Ingredients
coconut cream from 1 can

,

403ml of full coconut milk*

1/4

cup

55ml fresh lemon juice

4

tablespoons

raw honey

1

cup

114g cacao butter, chopped into small pieces

1

teaspoon

vanilla extract
Instructions
Add the coconut cream, lemon juice and honey to a medium saucepan. Bring the mixture to a boil over medium-heat, stirring frequently. Once it starts to bubble, continue cooking, stirring frequently for 5 minutes.

Remove pan from stove and set it on a wire rack. Stir the mixture for 4 minutes to cool a bit.

Pour milk over the cacao butter and stir until the cacao is fully melted, then mix in the vanilla extract.

Divide the mixture into about 4 to 6 small serving dishes and freeze uncovered for at least 5 hours before serving.
Recipe Notes
*Coconut cream is the solid cream that rises to the top of a can of full fat coconut milk after the can is chilled in the fridge for over 12 hours. This recipe uses only the cream and you can discard the water or use it for things like smoothies or sauces.
1 large lemon = about 1/4 cup lemon juice
Substitute white chocolate for the cacao butter if you prefer.