There are literally hundreds of uses for coconut oil from beauty to health, to household uses and more. Not only that, but also coconut oil is highly nutritious and loaded with good saturated fats. I highly recommend this article so you can learn more in depth about its uses and benefits.
"Coconut Oil: This Cooking Oil Is a Powerful Virus-Destroyer and Antibiotic"
I am always trying to find ways to increase my daily consumption of coconut oil and this dessert makes this very easy and enjoyable to do. This recipe is so good and so simple to make that I am sure you will love it too. The taste reminds me of a Mounds candy bar, but way more delicious. The main ingredients are simply unrefined coconut oil and unsweetened shredded coconut and topped with a layer of dark chocolate. I find that some brands of coconut oil taste better than others and my personal preference is Spectrum Unrefined Coconut Oil due to its pure sweet taste.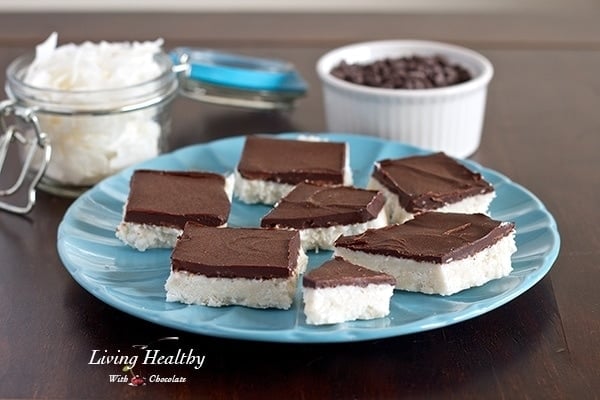 SHARE THIS RECIPE!
Coconut "Mounds" Bark (paleo, low carb, gluten free)
Instructions
in a large bowl mix the coconut oil with the shredded coconut, vanilla and honey

spread mixture evenly across the bottom and edges of an 8x8 inch dish lined with parchment paper and freeze until it hardens

melt the chocolate chips in a double boiler over simmering water and pour it over the frozen coconut

return dish to the freezer and after chocolate has set, chop into small pieces. Keep frozen.
Recipe adapted from this post